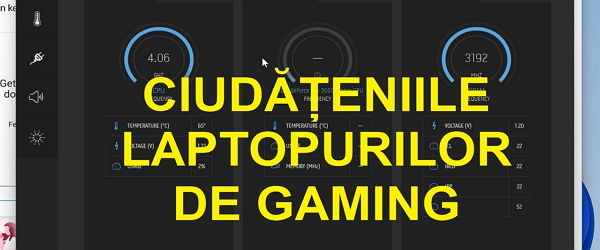 What is the video tutorial USEFUL information about GAMING laptops about?
In this article "USEFUL information about GAMING laptops" I will tell you what is good to know if you are going to buy a gaming laptop.
What to look out for and how to adjust your expectations, all in this article, which is not really a tutorial but an informational video.
The specifications on a gaming laptop are not equal to those on a desktop
If we take components with similar names, you should know that the performance level is not equal.
On a laptop, for example, an RTX 4060 video chip will not have the same level of performance as a desktop system equipped with an RTX4060 video card.
It's the same with processors.
Perhaps only in the case of SSDs is it possible to have a similar level of performance, if we use the same hardware.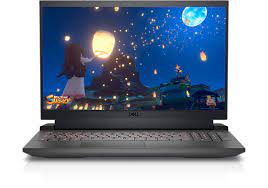 The power and cooling restrictions are super drastic on the laptop
On a laptop, energy is limited for several reasons.
The laptop is designed to run on battery power, and that's why everything has to be saved. But how to limit energy for high-performance components?
Laptops, and especially gaming ones, are very difficult to cool down, due to the small space and especially due to the pile-up of components next to each other.
Everything heats up in the laptop, from the processor and video card, to the ram and ssd memories. How to quickly remove all that heat and especially how, when you also have to save energy.
The gaming laptop is an OXIMORON
The idea of ​​a gaming laptop is a utopia, which, the more powerful the components, the more difficult it is to achieve.
How to use high-performance components where energy saving is desired?
How to cool performance components in such a tight space
How to force heat out of that small space when you have energy restrictions
The more powerful the components, the faster we hit the wall of energy and cooling restrictions.
Not to mention the noise a gaming laptop makes when it's in a game.
Without a power supply you can't play for even a few minutes. And then you wonder how portable a gaming laptop is?
Great attention to gaming laptops on offer or at good prices!
The components in these laptops may be of high quality, but the peripherals, battery and materials are poor.
What are the problems with cheap or bargain gaming laptops?
The screens have a small color gamut (washed out colors), the pixel response time is too high (ghosting appears), the brightness is too low. Sometimes the refresh rate is too low.
The materials are usually of poor quality
The keyboards are cramped and get a bit warm
The usb, lan, and Wi-Fi ports work strangely due to power restrictions
The batteries may be almost dead (it happens with old stocks)
The most important things that someone who wants a gaming laptop needs to know
On battery, gaming performance is much worse, no matter what you do
Connected to an external monitor the laptop will move much better
Laptop components are not equivalent to desktop components
The screens on cheap gaming laptops are super weak
If you want a pleasant experience, you better choose or make a gaming system
The sound on the most expensive laptop is very bad compared to the cheapest PC speakers
I picked up a Dell G15 5511 gaming laptop but chose to return it
I thought that in recent years things have improved, but I was wrong.
I bought one with my own money Dell G15 5511, which I am not happy with and therefore I will return it.
It has a bad screen, i.e. not bright enough, the pixel response is very high and the colors are washed out, the keyboard is bad, the battery dies as soon as you start a game, the sound is quite loud but very bad.
It is not possible that a laptop that before the discount cost almost 5000 lei could be so weak.
I have an Asus Vivobook 15, about 2000 lei, which gives you a more pleasant experience in terms of screen, keyboard and autonomy. He doesn't have who knows what processing power, but he's good for writing. Now I'm writing on the Asus, and the Dell is next to me ready for return.
I was expecting more from Dell and the industry in general, who seem to be unable to make this laptop + gaming utopia happen.
Related Tutorials: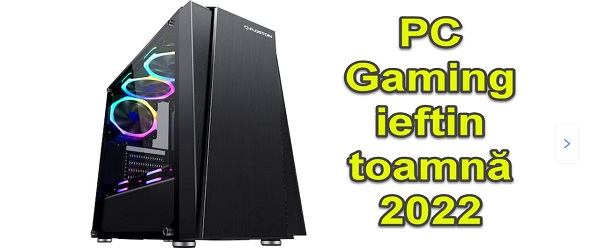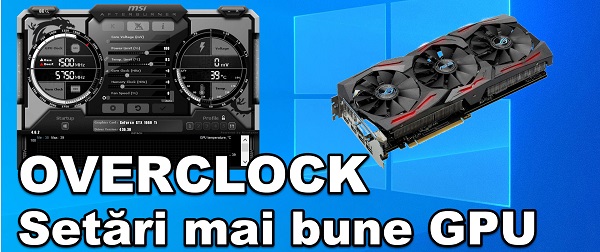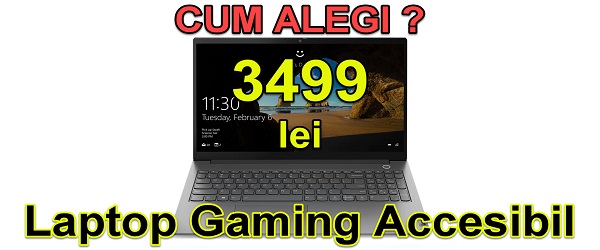 Video tutorial – USEFUL information about GAMING laptops