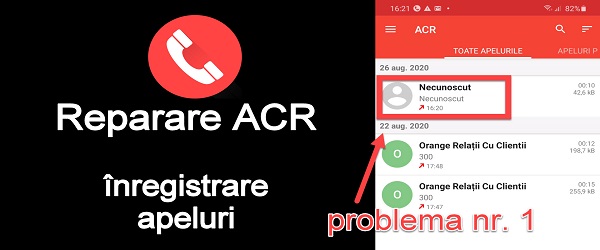 What is the ACR call recording tutorial about?
In this video tutorial (Recording calls with ACR), you will see how to record phone calls, so that both sides can be heard.
There are settings that we have to make and that I will present to you in detail in the video tutorial.
What is ACR? - Record calls with ACR
ACR, in this context it does not mean Automobil Club Român, but Auto Call Recorder, and is an application with which calls can be recorded.
Why can't I see the names of the contacts in the call logs in ACR?
If the call recording application, ACR, worked well at first, it has had two problems for some time.
One of these problems is that Android no longer allows Play Store applications to access the dialer.
SOLVING the problem with the lack of contact names in ACR:
As the Play Store application does not allow access to the dialer, we will use the unchained ACR version, which can be found in the Galaxy Store.
ACR Unchained can access the dialer by running it as an accessibility service. * see in the video tutorial
Why can't the other side be heard on ACR recordings
As we well know, Google does what it does sometimes and spoils our desire for anything with all sorts of new rules, which even if they come from the desire to make the OS as secure as possible, often spoil the fun.
Android no longer allows third-party applications to record sound from the system, but only through the microphone. This way you can no longer record the sound of both sides during a call.
RESOLUTION of the issue with the registration of the other party participating in the appeal in the RTA:
The solution is to make calls to the speaker and gradually change the volume of the recordings, if necessary.
Where do we get unchained ACR?
The app can be found in the Galaxy Store or other app stores.
* ACR Unchained, from Galaxy Store, is an application identical to the ACR in the Play Store, only it has an additional option, an option that would not be allowed in the Play Store.
Related Tutorials:
Video Tutorial - Recording Calls with ACR