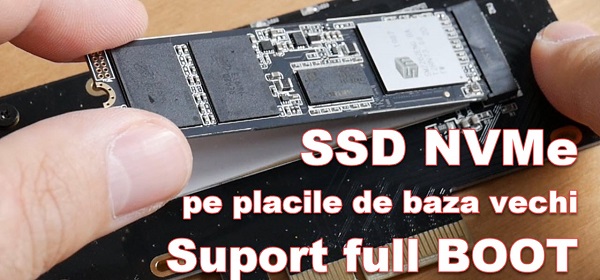 Why install a NVMe SSD on an older motherboard?
There are many reasons, but mainly a SSM NVMe has higher speeds than a SATA, and the price is similar.
An SSM NVMe can reach 3500 MB / s, while a solid state drive SATA does not exceed 550 MB / s.
Why not buy a new motherboard with NVMe support?
The main reason is that a new motherboard involves very high costs. Even if you say, find the cheap motherboard, you still have to spend money on the DDR4 RAM, that old one does not work anymore. You also need to change the processor, because that's how it works.
Performance gains, on the other hand, will not be so great, because in the last 6-7 years there have not been too much performance, but rather small steps.
An SSM NVMe injects your new life into the old system!
No component in this world increases your work speed in front of your PC, like an SSD, and especially a NVMe.
The secret of a pleasant experience in front of any device is the speed with which that device executes the user's commands.
For a lag experience, the best panacea is the SSD or a fast storage for other gadgets.
The processors are extremely fast, for a long time now, not from now on, but they have been kept in place by too slow storage.
What problems arise when mounting an NVMe SSD on older motherboards?
The problem with NVMe SSDs on older motherboards is that the old motherboards do not recognize NVMe drivers with an adapter.
It's possible to be on the market and more smart adapters that allow motherboards to see the NVMe SSDs at boot, but if they find it would be very expensive because it involves special circuits.
The SSD with the adapter used by me is not recognized in bios, but, I found a way to make them aware of the boot. I'll modify the bios.
Bios change with support for NVMe SSDs
Caution!
This operation (from the tutorial) is dangerous, because it involves bios modification, which is not agreed by the motherboard producers.
It goes without saying that you have to take responsibility for what you are doing.
BIOS Modifying Tools:
Hardware used in the tutorial (adapter and ssd):
Solid State Drive (SSD) Adata XPG SX8200 Pro 512GB, M.2-2280
Raidsonic ICYBOX adapter for M.2 type SSD connection, SATA or PCIE / NVMe compatible, with radiator
Installing NVMe SSDs on older motherboards - video tutorial