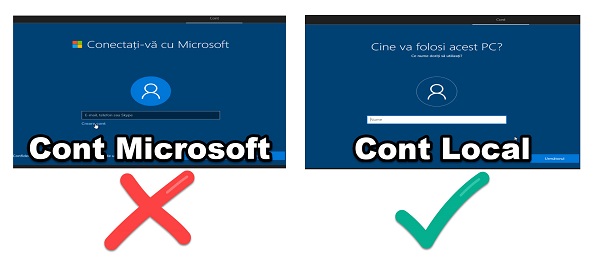 What is this tutorial "Installing Windows 10 on your local account"?
This video tutorial explains how to do a Windows 10 installation on your local account, because Microsoft in the latest updates hides this option and instructs us (forces) us to use a Microsoft account from the installation stage.
What is the difference between a local account and a Microsoft account?
Local account it is the first option when it comes to security and privacy. The local account is independent of the internet.
Microsoft account is the option for those who want to use Microsoft services such as the app store, cloud storage, and data and settings synchronization.
Advantages and disadvantages of Local and Microsoft accounts
Undoubtedly each option has its advantages and disadvantages:
Local account, although it gives us more security and privacy, it may be considered by some as an outdated option. You do not have access to the app store, sync, or cloud storage.
Microsoft account it gives you a lot of "comforts", but the cost is related to data security. Microsoft may use certain personal data to "improve services". Another aspect would be related to the cases in which the servers are broken and the data is stolen, which can end up in the hands of hackers (see sony, dropbox, etc).
How to install Windows 10 with local account?
There is no option where you can activate your local account, but there is a gateway.
Installing Windows 10 on your local account can be done by disabling the Internet.
Simply remove the cable from the net before installation and ignore the error that occurs. After that, Windows will continue setting up with your local account.
As you can see, we do not have the option displayed clearly, but only when the net is turned off.
Related Tutorials:
Windows 10 Installation Tutorial on Local Account: