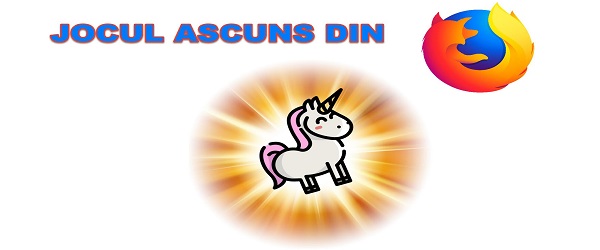 What is the UNICORN Game Tutorial hidden in Firefox?
In the UNICORN Hidden Game video tutorial in Firefox, you will see how to get to the hidden game from the Mozilla Firefox web browser.
This is a simple game that looks and works like the classic PONG game.
If you want to go back in time and try PONG, go on this link
Why hide from Chrome, Firefox and other software stuff?
At Easter
Are called easter eggs, ie pasta eggs. In some cultures, Easter eggs are hidden in the house or in the yard, and those who want to play must find the hidden eggs.
In cinema
The same name, by Easter Eggs, is also given by the clues that the directors leave in films for fans, who can imagine what the next part of the series will be like.
The same "easter eggs" are also used in videos for various purposes.
In the software world
Software developers are also used to inserting all kinds of "lizards" through the code or even in the graphical interface, as did those from Firefox.
Even on Android, when the page does not load due to the lack of connection, the game with the dinosaur that jumps over the cacti is automatically loaded. Once the net returns, the game stops and the page loads. We notice that this solution is meant not to get bored or annoyed that the page is not loading.
How do you get to the hidden game in Firefox?
Open the Firefox browser
The Menu
Customize
Move all the buttons on the left to the "Surplus Menu" with drag n drop
The only one that will remain "flexible space"
Below will appear the "unicorn" which is the button where you launch the game
The left-right arrows on the keyboard are the controls
Tutorials similar to "hiding":
Video tutorial - UNICORN game hidden in Firefox