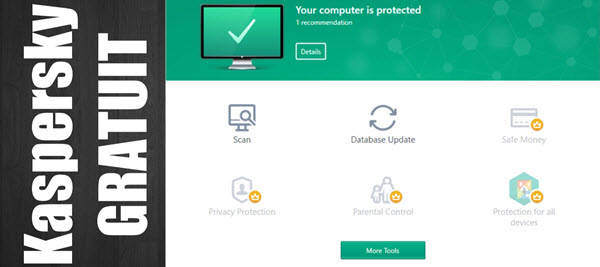 Kaspersky Free a Kaspersky Free Antivirus
Hello friends, today's tutorial talks about Kaspersky Free, the free antivirus released yesterday by Kaspersky.
What kind of protection does Kaspersky Free offer?
- file protection, real-time and cloud scanning, behavioral scanning, rootkit protection, self-defense (malicious applications can not disable, uninstall or block the antivirus), USB stick scanning, or external hard drives connected to PC.
- web protection, port and traffic scanning, SSL connections, malicious website protection, and scripting
- protection for instant messaging software such as Skype, Yahoo Messenger
-protecting e-mail clients against phishing attacks and scams
- virtual keyboard that prevents the keylogger from being intercepted by the pressed keys. Useful if we want to make online payments or fill in forms or fields where sensitive information needs to be entered.
How Effective Is Kaspersky Free?
I think no one can question the reputation and effectiveness of Kaspersky giant when it comes to security. He has been on numerous occasions and is still in the top of independent tests. Kaspersky Free uses the same advanced protection technologies as older brothers (security suites)
How Mild is Kaspersky Free with Computer Resources?
Gazing an eye in Task Manager, I was amazed to note that Kaspersky Free consumes somewhere between 30 - 60 MB RAM, which means very little resource for an antivirus.
Kaspersky Free - official site
Video tutorial - Kaspersky Free a free Kaspersky Anti-Virus