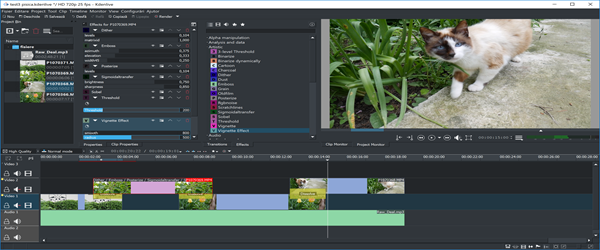 Kdenlive free video editor for Windows and Linux
One is a great video editor, developed on Linux, Kdenlive, which has now been ported on Windows, is a solid alternative to video editing programs on Windows.
Kdenlive a serious publisher
Do not you think of as a video editor Kdenlive childish, linear type, where you can not do much.
Kdenlive video editor is a very powerful type NLE (non linear editor), like Adobe Premiere Pro and Sony Vegas, absolutely Orie that you can edit video, audio, effects, transitions, green screen, etc.
What does NLE video editor
Non-linear editing or editing NLE is the method by which each can cut, modify, add anything in the timeline. Basically a NLE editor provides total freedom of making assembly.
NLE editors are thought of, in particular for digital content that can be mixed and modified in many ways.
Where did Kdenlive?
Kdenlive is a well-known and appreciated editor on Linux, which is about the most used video editor. To the delight of users of Windows, this year, Kdenlive is available on Windows, which can only make us happy.
Kdenlive and marketing?
Unfortunately Windows users do not know much about the Linux world, because there do not invest much in marketing. Kdenlive is 100% free, which may seem strange for a user of Windows that is common for good software to cost more.
Why should I use Kdenlive?
Video Editor Kdenlive is probably the best option for everyone. I say this because it consumes a lot of resources and is cross platform, that if tomorrow we move to Linux, you have to start over with a new learning video editing program.

...
Other tutorials about video editing:
1. Extract from a video sequence in 2 seconds with Streamclip
2. Sticking with Avidemux video files quickly and Power Director
3. Ultra fast video editing with SVRT 4 Director of Power
4. How to remove the audio from a video?
5. How to remove background noise in the audio or video
6. Sound recording from any source without loss of stereo mix
...

Kdenlive free video editor for Windows and Linux
Video Tutorial - Kdenlive Free Video Editor for Windows and Linux