Hi friends, today is time for LG G3 verdict, super phone that test it for a week or so.
I came to some conclusions, some are good, unfortunately we have some less good news.
LG G3 we received for testing from evomag.roThat in this period had a very good offer for G3 LG tablet with LG to offer. If, however, this phone is more than your budget, you can take a look through the store Mobile Phones category where you will surely find something at a good price.
First impressions
Like any passionate user, when I first got my hands on the LG G3 I was enchanted, the beautiful screen, the metallic look finish, the "perfect" position in the palm of my hand. Of course this is the first impression, an emotion that all manufacturers want to use to reach the customer's pocket.
The contact with the software at the first setting was quite strange, windows with terms and conditions and other "guides" that seemed to delay my contact with the interface. On Nexus 4 everything was very simple, I entered the Google account, I connected the phone to wi-fi and that's it.
The first days with LG G3
In the first hours and days of use if you are enchanted, giant and super clear screen just does not cease to amaze you, that when you go inside as outside it's not so "gorgeous" anymore.
The first incident
The first time I dropped the phone (I hope Evomag not read), I had a big shock, first it was my phone and if you break it do not know what they happened, I had to look for a 2400-2700 lei.
I picked up the phone and noticed that there was nothing, a scratch on the back cover which fortunately has faded after a few rubs on cloth. I must say that I have not escaped the harsh concrete or asphalt, the phone has been dropped on the tiles in the house. It seems that the back cover is made of a soft plastic that is shaped like time.
A few days ago I noticed that the paint on the next volume buttons (back) started to Cojasca, this is not good at all, especially in that place there was no way to rub the table and not in your pocket with keys I kept. I think that the paint is peeling in contact with skin acidity while using the phone.
Ergonomics
This international media pointed LG G3 quite positive, I will say that I think otherwise:
It is easy to operate in portrait mode.
It is more difficult to handle / easy escape in landscape mode (left-right margins too thin).
It is very hard to lift it off the table if the screen down.
You can not use it with one hand unless you have very, very large hands.
Knock Code worst messes up after a few days of use, you're standing is ok but when you move, for example when you go and want to put the code if it is not so ok.
Knock On is ok, if you have some free space on the home screen, if you have free space is harder to block phone with two tapuri on the top bar, even I realized that my blood came gesture that would be implemented on all phones. Tutus must specifically clear that this Knock Knock On and Code are possible by using a coprocessor functions that consume very little power, only SOC Snapdrogon 400 sites, 600, and 800 801 have it.
Hardware and Performance
LG G3 has power, we can not deny it, the problem is that it slows the phone interface and the services running in the background and you can not escape the profound changes than at the (root, custom rom, custom recovery).
The game moves perfectly, unfortunately when you want to switch from one application to another you hit the Optimus UI interface slows you.
Even if you use another launcher interface still remains scattered here and there over the phone and that's a slippery mud under his feet Snapdragon 801.
The Snapdragon SOC 801 is a champion, does not fit the discussion, do not bother with the daily chores, revs all the time only two of the four cores on a 20% capacity. Only when the case is also flex a little but most of the time sitting relaxed in a comfortable frequency.
UPDATE:
For enthusiasts, the governor used on the LG G3 is "Interactive", compared to "Ondemand" which was the favorite until now.
Graphics Adreno 330 is incredible, 3DMark ran without problems framerate eye always comfortable (not too fell below 30 fps. Yet do not forget that 3DMark is not a game, it is a test application that is made to put distressed hardware, so in this mobile game has no problems at all.
Software and Functions
The LG G3 software is designed pretty well but not everywhere, in some places the interface is simplified and useful and in some places it is downright useless and even obtuse.
An example of unnecessary software part is the notification area is too crowded. Why keep always there togle some sites that are used rarely and not leave space for notifying email, sms, facebook. Basically sometimes you have to scroll to see your notifications, because the first time I let down the notifications only see togle's and sliders.
Of course there are many good parts implemented software such as:
The application of remote
Clip Tray (a kind of multi clipboard)
Uninstalling the app tray multiple applications
LG Health (count your steps)
Smart notifications do not interrupt your movie when the phone rings (a discrete notification at the top).
The keyboard comes with support for Romanian and can resize / customize as desired (made in collaboration with dev. Go Keyboard).
display
You already know that LG smartphone with G3 is best defined screen, it has a resolution of 2560 x 1440 or QHD (Quad HD), to understand everyone in LG's display G3 can enter four screens Galaxy S3 or Nexus4 (almost).
Despite the resolution, the screen is very good, can play extremely accurate colors (except reds) and shades. In Nexus vs LG G3 comparison 4 you'll see how well it performs this panel. The only weak point of this panel, besides the inevitable overheating is poor visibility in sunlight, again in strong sunlight. Below are two tests, in sunny and overcast sun.
Screen visibility in sunlight
Sun screen visibility in overcast
Audio
Here I was surprised when I opened the box and saw Beat headphones Quad 2, I said that these earphones must be good, unfortunately it was not, headphones are below average. If you replace some quality headphones is ok, I put a pair of headphones oldest and sound output was very good, we have high volume but it's ok.
Speaker phone. sounds really good especially on networks with HD Audio, often felt the need to leave the following volume. to hear something loud distortion in conversation but it is annoying.
Speaker is good, but the sound volume is not very well defined, lacking bass, that if we're good to think, could not be generated in a apatiu so small. HTC One M7 and resonance M8 have space for speakers, so it sounds so good. Should be specified as the LG G3 speaker sounds better and louder than the Samsung Galaxy S5, which probably has problems with hydrophobic membrane. Speaker's LG G3 hear even if it is covered 100% finger is incredible but true, not so good but hears sounds unusually loud. In conclusion I do not think you should worry regarding speaker.
Battery and Autonomy
The battery is made by LG and has almost 3000 mAh, it loads very quickly if used a 2000-3000 mAh charger, I think this is because LG uses special materials for anode materials hurry loading and discharge the battery in May gradual and deeper. The battery has the same force in it and 100% but the 10%. You will be surprised at 20% jump in 5% in 2 minutes.
Range tests were conducted over two days, the same tests were conducted.
Results:
The phone can:
In standby 267 hours or
Running local video 7.10 hours or
Running video on youtube 5.30 hours or
In gaming 4.20 hours or
On the internet (web) 5.20 hours
It should not be understood that the phone can run with all the above values. Example: If we watch movies for 3.5 hours, we only have about 2.1 hours of gaming time left. Any activity decreases from the portion of the other activities, you understand… only all use the same battery.
The above values ​​were obtained from 100% charged battery until the phone stopped.
During measurements all sensors have been started, including wi-fi, gps, bluetooth, sync accounts and mobile internet network.
Measured values ​​will be different.
Camera, Photo and Video
LG G3 can take pictures up to a resolution of 13 MP in 4/3 format or 10 MP in 16/9 format. Can film 4k, that means 3840 x 2160 (you have samples below), 1080p, 720p and even slow motion 720p (which is actually a 480p scaled to 720p), I have no clear evidence but I have eyes that do not deceive me, marketing this….
The picture quality is good in 4K and 1080p which is a bit soft (probably applies a scaling formula below which works perfectly) 4K is clear and well defined, the only time we see Artefice are times when moving quickly from room it appears in another, then there is the effect of rolling Shuter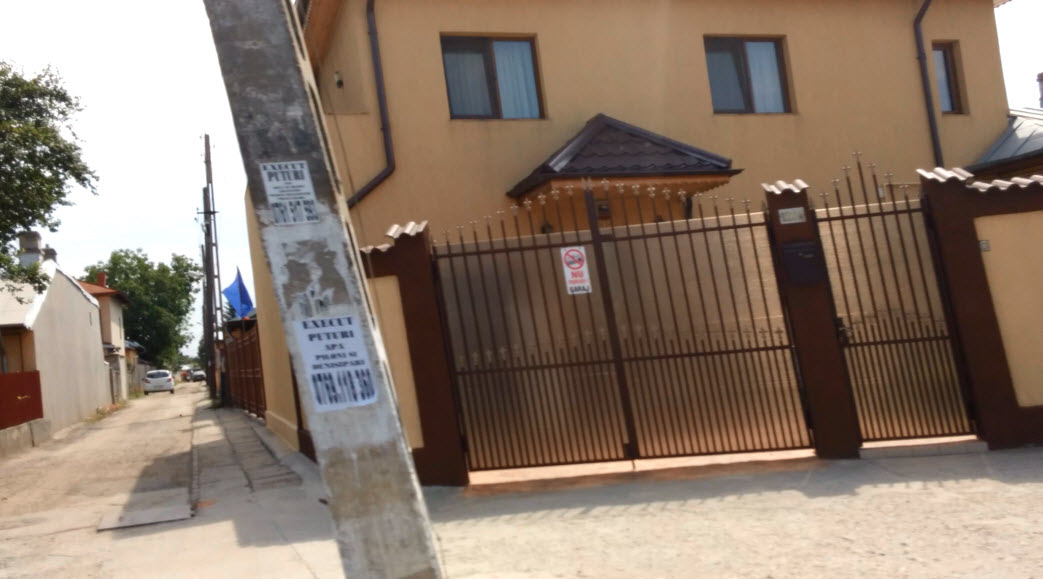 It's better not shoot the left or right if you go by car.
Secondary camera is also pretty good for self, especially Beauty Filter function which can make your face smoother, you remove pimples or beard.
All front camera comes with an ace up his sleeve in darker environments can crop the image and the edge appears only a very light frame alra or pink, that you place the flash and it does its job incredibly well, to see a self as pseudo flash.
The camera on the back is very good, if you have more support from the software layer was perfect. Even so the results are good, very well detailed pictures when enough light. In dark places excellent optical stabilization implemented (See the tutorial how it works) help a lot, that's because the phone can use a shutter speed very low without waking up with blurred photos.
Flash, that the lights do their job but not very good, it looks like the smartphone flash is still not taken seriously, it is not synchronized properly and often overlap overexpose the subject.
The focusing is unexpectedly good, the house had an older compact camera and I compared the LG G3 auto focus and I was surprised with the new LG G3 by laser focusing system is very efficient.
Laser auto focus system is like a phase detection system on DSLR simplified this laser is used to measure the distance to the subject. It must be said that the laser was not doing the job yourself, is helped by contrast detection focusing system in some cases, for example when you focus manually tap on the screen using contrast detection. This system was first used on a prototype developed by LG vacuum cleaner which eventually made it to the market but it seems that this focusing system was useful after all (what good is the research and development).
One very important thing that many of those who did reviews for this phone have overlooked is the possibility to pull focus that goes hand in hand with measuring spot, not stuff past the spec sheet. Even if it is a manual focus however is something extremely useful especially for those who are shooting more and shooting a few frames LG G3 as a chamber B (from another angle). Pull focus allows you to move the focus from a nearby object farthest one.
Pluses LG G3
Excellent display with good dynamic range and natural colors.
Nice design and more comfortable than other devices similar.
Keyboard Romanian language that can be resized.
Camera and fast focusing system
Lighting and front camera (somewhat)
Minuses LG G3
Loss cellular signal in areas poorly covered
Ergonomics weak in some situations
Interface device that dampens
Notification area too crowded
Conclusions
There are many things I like about LG G3 and some that I can not move. 3G and 2G signal in my area is OK on any other phone, I can not say it is very good but not bad, the Nexus 4 I never had problems. With LG G3 I lost signal several times and was not something isolated because I went in the car and checked with both phones in different areas, Nexus 4 had no problems when LG G3 losing signal. be the phone that I have received damaged, do not know!
Besides everything I listed above is a feeling of fragility. Do not get me wrong, the phone SCART and not bend much, but just does not inspire safety. You think its a different one moment to drop it down and make pieces-pieces. However, it is a mobile phone, you should not be so fearful a design be? I may be paranoid? who knows!
Samples VIDEO
Reduction function facial imperfections
LG G3 1080 video, low light
LG G3 4K in low light
LG G3 visibility in outdoor video display
Test video LG G3 4K, Auto Exposure from sun to shade
Test video LG G3 4k, pull close focus and spot metering Auto Exposure
Test video LG G3 4k, pull focus away
Test video LG G3 4K, spider table (video details)
LG G3 outdoor display visibility in sunlight 13 time: 00
LG G3 gaming Riptide test GP2
Nexus vs LG G3 4 display quality
LG G3 benchmark tests (60 fps)
LG G3 4K, optical stabilization in action
It is an archive with original pictures on Google Drive, download them, unzip them and look at them quietly.
Prices LG G3