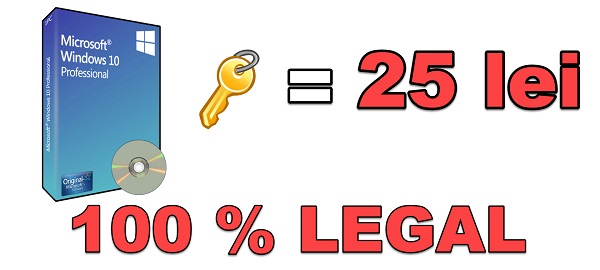 Original legal Windows license at a low price - goodbye pirated OS
Ever since Windows came out, it has been hard hacked. That's because of the rather high price and poverty.
Now, with this ridiculous price of only 25 of lei, you have to be completely unconscious to install another pirated Windows.
Why is Windows 10 so cheap, and the retail version is so cheap.
Windows 10 should be given for free from my point of view. There is no point in trying to squeeze customers to the maximum; Better free and have everyone open the updates, than pirated systems, from which data is hard to collect.
The truth is another, Microsoft feels the current in the neck.
If you ask the officials, you will hear a lot of diplomatic words that mean nothing. The truth is, Microsoft wants its operating system to be used by as many users.
Microsima software is the new operating systems with cavalcade of services and solid ecosystems, which threatens its position even on the desktop.
Things are changing right under our eyes.
Microsoft is no longer relying on software or hardware sales. Services and AI (artificial intelligence) are the future, and they look to the future.
This is exactly the Google model. Goagăl is not interested in selling the operating system, it is free, and only the services running on the operating system. Just like Google doesn't give a house for free, it doesn't charge us rent, but we have to buy electricity, water, movies, music, air from it…
The operating systems will disappear.
Not too long ago the operating systems will disappear in the background, and then it will no longer matter what system you have, but which services you pay subscription.
The processing power moves online. Even the games will be played using the data center processing power (cloud).
Hardware will be the only differentiation criterion, I mean the screen on the keyboard, etc. Otherwise the PC, the phone, the tablet, will become exclusively terminals, which will no longer work without the cloud.
Where to download Windows 10 officially:
...
...
Where do I buy the Windows 10 PRO Retail license for 25 lei?
...
...
Related tutorials:
Video tutorial - Original Windows 10 license at 25 lei