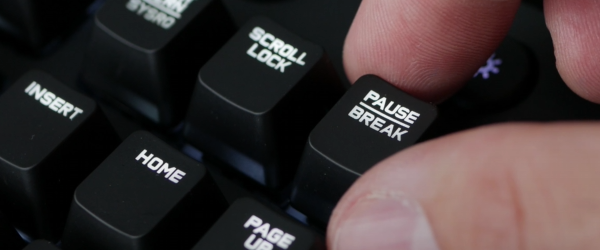 Logitech G610 Orion review
In this review we'll see how good the Logitech G610 Mechanical Keyboard is, a bright, illuminated Cherry MX Brown Keyboard Keyboard.
What is a mechanical keyboard?
The mechanical keypad has buttons with mechanical contacts, which are made by contacting two metal parts, and when these metal parts inside the key meet, the contact is made and the pressing is recorded.
Difference between mechanical and membrane keypad!
Why is a mechanical keyboard better?
First of all, we have the precision, which is the same on each key. On mechanical keyboards, all the keys act the same, with the same force and depth.
Membrane or rubber dome keys do not have the necessary precision, if they have it at first, it is lost in time, when the rubber loses its properties and elasticity.
Of course, after years of typing on a certain type of keyboard, you get used to it and moving from one side to another can be cumbersome.
I personally got used to the mechanical keyboard hard enough, but now that I'm used to it, I do not think I could go back.
How is it typing a mechanical keyboard?
Pretty, but sometimes louder. The typing experience is extremely pleasant and satisfying, but a minus that no one can deny is the noise, which is higher than a membrane keyboard or rubber dome.
For some noise it is not a problem, as it is not a big deal for me, but if you work late at night and family members want to sleep, problems may arise.
Design Logitech G610
Logitech G610 materials
The keyboard is made of matt plastic on the front and back, and on the edges we have a glossy plastic. Some would say that glossy plastic is a "fingerprint magnet", but I say it's not the problem because the side of the keyboard is very rare and it's not very visible.
On the inside, the keyboard has a metal plate on which the buttons are mounted, the board that provides keyboard stiffness.
Ergonomics Logitech G610
As well as stability, as I said, the keyboard is like a tank, which is also accentuated by large rubber back supports.
As a tilt, the Logitech G610 can be in 3 positions because it has two adjustable rear legs that can be fixed in 2 positions + horizontal position without support.
Unfortunately, we do not have the rest of the palm, but that's a pretty common thing about mechanical keyboards. However, the Logitech G610 is comfortable and palm-free thanks to the positioning feet.
Logitech G610 keys
My keyboard comes in format ISOWith lower left shift and more vertical entry. I would have preferred ANSI, because that's how I used to, but now ...
We have multimedia buttons with a good touch response and an excellent volume roll
Logitech G610 does not come with programmable macro keys, but Fs can be programmed
Conectivitate
The USB cable is flattened but fixed
Logitech G610 does not come with USB ports or jacks
Key Rollover
26 keys can be pressed simultaneously, and they will be recorded. That means you do not have to worry about typing very fast and the keyboard does not keep up.
This thing with 26 rollover keys is also extremely useful for gamers, where several keystrokes are pressed at some points, and there may be problems registering them. With these 26 keys pressed at the same time, the change keys (Ctrl, Alt, Shift)
Brightness control button (For brightness level control)
Gaming mode button (To disable Windows and Menu keys)
...
(Prices)
...
Video tutorial - Logitech G610 Orion review