About a week ago I received a small package of all the Mikrotik, the wireless router was so small that I did not believe it.
In fact they said that I send another router, but the guy sent me and that little that I put a smile on your face.
Map Lite is a micro access point can also act as a router, just not lack Lan exits, the rest is more capable than most routers on the market.
Map Lite is not just small and cute
Do not be fooled by its size Map Lite, because it comes installed with Router OS, an operating system very advanced routers that will offer many features that probably will not ever teach them.
A major advantage of Map Lite:
In comparison with other routers or acess point sites, MAP Lite can be powered via PoE, meaning you no longer have to shoot two cables, one current and one net, but only one cable net that will come current. View presentation and tutorial PoE.
Speed ​​Wireless
Here we have three values:
1. Connection reported in Windows, which is 300 Mbps, much higher than the entry level routers. The connection is possible thanks to dual antennas chain.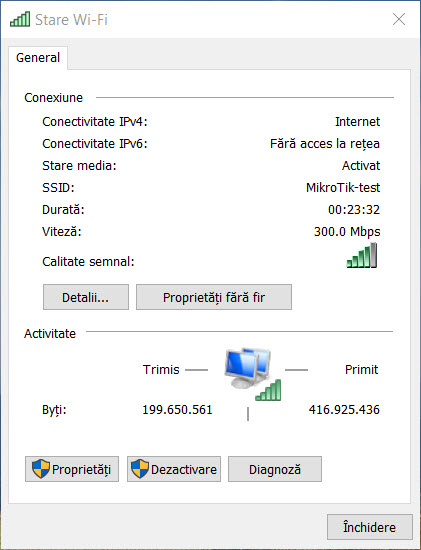 2. Propriuzisa clicked with SpeedTest speed, which is almost 100 Mbps Ethernet port that is 100Mbps



3. Wireless transfer speed between the router and laptop. Yes, because router integrates a "tool" speed testing. Here we have reached much higher speeds that are not limited by ethernet port, restricted only interface / connection on the wireless. Speed ​​reached between the router and laptop is 224 Mbps.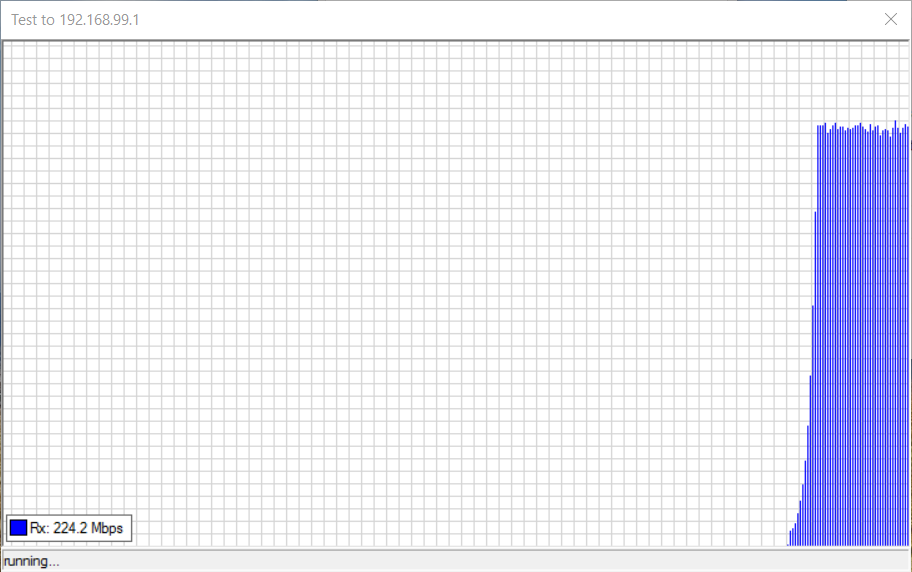 .
Speed ​​does not get anyway.
To get good speed on wireless, you need order in wireless spectrum. You can "make room" in your router radio spectrum Carefully choosing channels. Also known as choice of channel bandwidth It can affect speed.
RouterOS operating system MikroTik
RouterOS is an operating system which is found on all devices Mikrotik products, and is full of features, perhaps too much for a novice user.
No problem, if you are a beginner user will use QuickSet how to start and router takes care of everything.
Specifications MikroTik Map lite:
CPU - 650Mhz
Core - 1
RAM - 64MB
Storage - flash 16MB
Ethernet - 10 / 100 Mbps
Chip Wireless - QCA9533
Band wifi - 2.4 Ghz
Standard WiFi - 802.11 B, G, N
Maximum speed - 300 Mbps
MIMO - Yes, dual chain
Operating System - RouterOS L4
VPN Server - PPTP VPN and Open L2TP
Hotspot - DA
Reports - DA
Firewall - YES, complex configuration
PoE - Yes, liabilities, 802.3af / at
Consumption max - 3.5W
Where did router?
Mikrotik Romania boys were friendly and gave us Mititelul Map Lite test. Together with him and sent another router higher, which will be discussed elsewhere.
In the meantime, if you winks Lite map, you can take it on MiktoTik.ro (I think it's offer).
MikroTik routers can be used for administration WinBox (Below), but not required, that you can also use your browser to access the administration interface. However WinBox remember open windows and arranging them from session to session
Video presentation Map lite