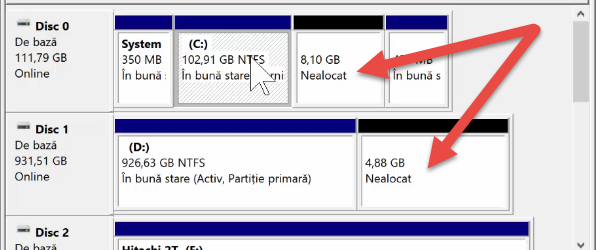 Increase C: \ partition by attaching another partition
When we purchase a laptop or simply install Windows for the first time, it happens that your hard disk or SSD has multiple partitions.
Besides normal Windows partitions, we can have other partitions or even unallocated space.
Why increase the C: \ partition on which the operating system stays?
The answer is clear: Because it is sometimes necessary, especially if we make some space-consuming updates, or we simply want to install large apps in C: \.
Another reason to increase the partition C: \!
If you currently use Windows 7, and you want to switch to Windows 10, you will notice that Windows 10 has the habit of consuming a lot of space if left behind.
Windows 10 gathers updates for network sharing, Keeps the old version of the system In case of update, and therefore more space is needed on Windows 10.
Why do you need to increase the partition C: \?
First of all we need to have the partitioned disk, that is, beside the operating system partition, there must be another partition there, which we can attach to the partition of the system. If you do not have another partition or unallocated space, this method does not work.
How to increase the partition C: \?
Assuming we have another partition next to the system partition, we will delete that partition and attach it to partition C: \ by expanding partition C: \.
Everything is done from Windows, without the need for any additional programs.
ATTENTION - before extension
It is recommended that you save important data on the partition to be deleted. You can save it on a stick, external hard drive, or stick enough for partition data.
A good idea is to have one Backup for Windows
Video tutorial - Logitech G610 Orion review