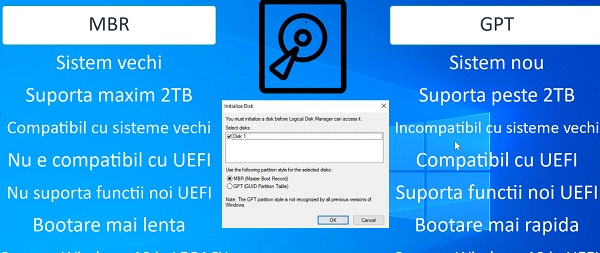 What are MBR or GPT?
MBR = master boot record
GPT = GUID partition table
MBR and GPT are "partion tables" or in Romanian partitioning systems or schemes.
These are small partitions that contain data about disk partitions, partition type, file system used, and more.
What is the difference between MBR and GPT?
MBR is the old system that has been used since 1983 and has compatibility and all the older operating systems.
It also has a number of drawbacks, notably that it does not support larger 2TB (with 512 sector) and is not compatible with UEFI and advanced UEFI features.
GPT it is the new partitioning system that provides support for the "future", ie for all the functions that exist and will appear in UEFI and in future operating systems.
Some clarifications about MBR or GPT.
MBR - you can install any OS, even Windows 10 in legacy mode
MBR - It is more compatible with old systems or media players
GPT - does not work with older operating systems
GPT - offers advanced features due to UEFI compatibility
GPT - "some" say they move better in games (no longer checked)
How do we change from GPT to MBR or vice versa?
There are many applications that will help you do this in graphical interference.
Even without applications, you can switch from MBR to GPT, but you need to use the command line.
The application I recommend is the EaseUS Partition Master. An easy-to-use application, which is free of charge.
Some similar video tutorials:
Video tutorial… ..
MBR in GPT without data loss - video tutorial