Mikrotik PAH AC top range of SOHO networking manufacturer in Latvia. This wireless router does not boast a solid marketing, but can boast performance and functions away from Router OS operating system, which turns into a real wireless router router super smart. AC PAH review Mikrotik, router top.
Mikrotik design PAH AC:
Here people from Mikrotik not play with design, AC PAH is a simple device with a durable plastic housing. A housing of the same shape and meet it and the other Mikrotik models.
Routers Mikrotik, RouterBOARD that, that's brand product will be primarily functional and performance. The design remains neutral, pleasant, not kitsch bone, how see some routers on the market. Overall I like, I'm being conservative. The only problem with this design is that it sounds too generic, as if a certain switch, not a top wireless router.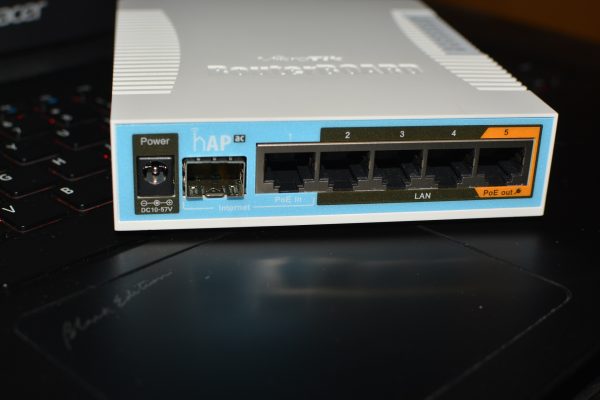 Output PoE for APs or IP cameras.
A major advantage of Mikrotik PAH AC outlet PoE last LAN port. This feature saves us a power when we want to mount a IP camera They have an AP, this cable being able to be fed through the net.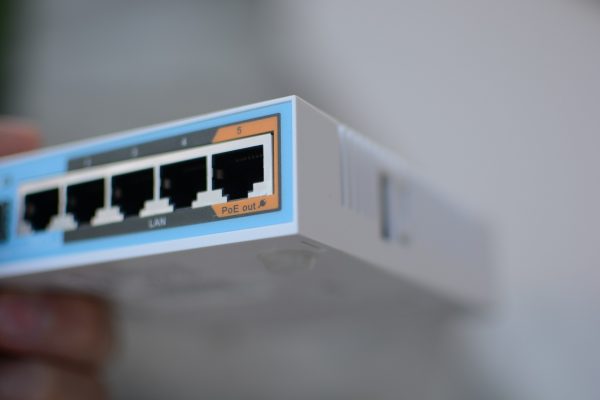 Specifications:
Speed ​​wifi - 1750 Mbps (aggregate bands)
Class router - AC1750
Speed ​​2,4Ghz - 450 Mbps
Speed ​​5Ghz - 1300 Mbps
Antennas - triple ring - that 3 3 × MIMO
Sockets for external antennas - Yes, motherboard
Internal antennas - 6 antennas / 2db
Maximum power - ie 800mw 30db
PoE - PoE and PoE out in
WiFi standards - 802.11 B, G, N, AC
Processor - 720 Mhz
RAM - 128 MB
Flash memory - 16 MB
Operating System - Router OS
VPN server - Yes, PPTP, L2TP, OpenVPN
FTP Server - Yes
Hotspot - Yes
LTE Support - Yes
Working temperature - -20C - + 60C
Antennas × 3 3 + sockets for. external antenna:
Alignment Mikrotik a triple ring PAHs AC antennas, that is, MIMO × 3 3. That's not all, because we have the motherboard Connectors for connecting external antennasIf we want to do that. Although all 6 antennas (on 3Ghz 5 and 3 on 2,4Ghz) are internal, and a gain of 2 db, which gives me a better coverage than we currently Asus RT-AC56U, and ironically, the coverage is better and than that of Asus RT-AC87U.
CONNECTION:
Map Lite, a router as a matchbox from Mikrotik
AC87U Asus router with the best coverage wifi
Tutorial wireless router Asus RT-AC56U
Transfer files between PCs at high speed
Speed ​​connection between the router and laptop mobile respectively
On laptops have Intel network card × 7265 2 2 866 and we Mbps.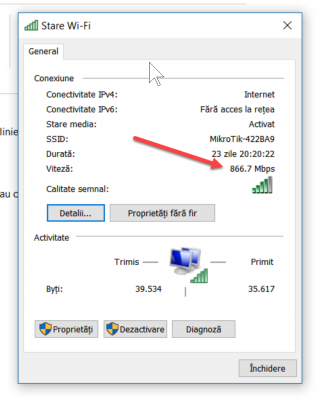 Mobile (OnePlus 3) have AC and we 1 1 433 × Mbps.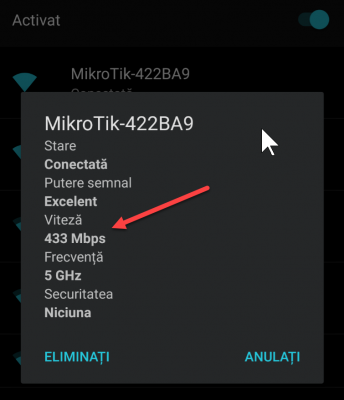 Coverage Mikrotik PAH AC:
In my tests, made on the default settings, Mikrotik PAH AC was much better than Asus sites long distance. This is probably due to close 800mw transmitting power. I tried setting 30db wireless 800mw that, but I felt great difference indoor and outdoor settings core router is able to cover my yard without problems (small yard, 500m2).
WAN to LAN test results Mikrotik PAH AC
942 Mbps each time with 0 load on the CPU (FastTrack activated)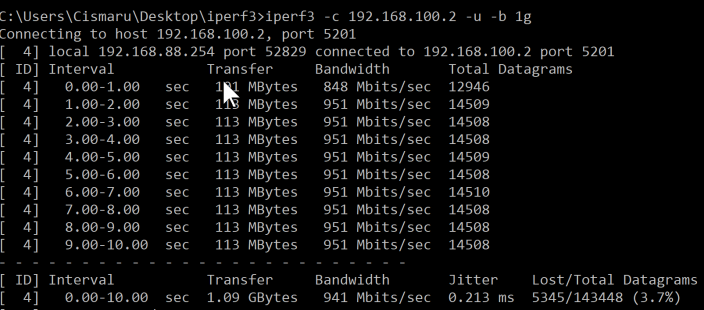 LAN to LAN test results Mikrotik PAH AC
941 Mbps each time with 60% -80% load on the CPU (FastTrack activated)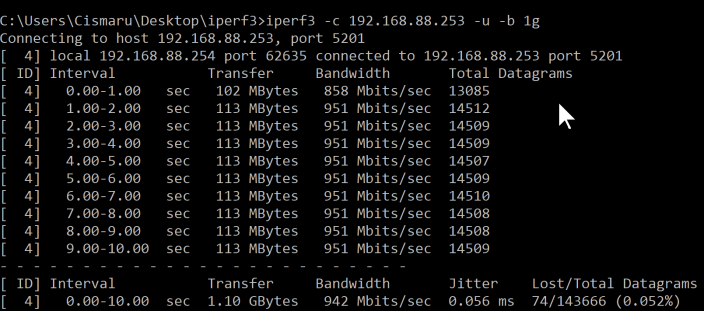 Mikrotik PAH AC vs Asus RT-AC56U
Mikrotik routers in the proximity of the best on the Asus download and upload. When we left the routers Asus begins to lose signal, and Mikrotik your laptop is kept stubbornly.
Below are charts download and upload wireless made mobile phone and laptop.
Mikrotik PAH AC vs Asus RT-AC56U - test download
Mikrotik PAH AC vs Asus RT-AC56U - upload test
Hap needle official tests Mikrotik router can show that much more, but for that you have to do something special configurations with NIC bonding, so we can move Gigabit speed.


Credit:
Thanks team Mikrotik.ro because they have made available this router.
AC PAH review Mikrotik, router Top - video tutorial