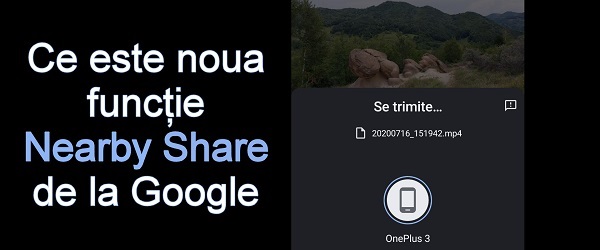 What is the Nearby Share video sharing tutorial without intermediaries about?
In this tutorial, Nearby Share file sharing without intermediaries, I present the new method of transferring files from one Android device to another Android device.
File transfer is done directly using Wi-Fi Direct, a Wi-Fi network, to which phones are connected, or the mobile network, when Wi-Fi cannot be used.
To whom you can send files through Nearby Share
You can send files through Nearby Share to anyone near you, has an Android device, and the Nearby Share feature on your phone.
The distribution part is very intuitive. It's just like sending files via WhatsApp or any other network. It's just that the transfer is done directly between the phones, without intermediaries.
To avoid possible flood attempts, Google has allowed us to limit the sources from where we can receive files, even in the Nearby Share settings.
What is the maximum transfer speed via Nearby Share?
There are no limitations. The Nearby Share application will choose the fastest file transfer path.
I transferred via Wi-Fi Direct at almost 20 MB / s which means about 160 Mbps. This is an even better speed than the speed of transferring files via USB cable.
How can you get this Nearby Share?
Rumor has it that Google will release Nearby Share for everyone in August.
If you want to have Nearby Share earlier, you can only by enrolling in the program Google Play Services Beta.
You become a beta tester and your application will appear on your phone. If even after you become a Beta tester, Nearby Share didn't appear on your phone, uninstall and reinstall the Google Play Services app from "my apps and games" in the Play Store, in the "Beta" category.
Similar tutorials with smartphone file transfer:
Video tutorial - Nearby Share file sharing without intermediaries