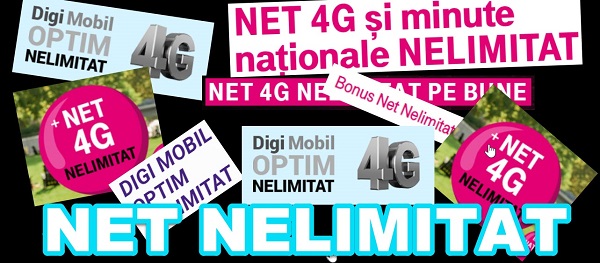 We're taken with the jerk, that's the truth. Day by day we are convinced (fools) with offers that most tempting with Net Unlimited.
The unlimited net is one of those offers that nobody can resist. However, we must be aware that at this time, with this technology, it is almost impossible, as a provider of mobile communications services, to give NET NETWORK clients.
As if the offer with NET UNLIMITED transposed.
You can eat unlimited, but only a sip of an hour
You can have what salary you want, within the limit of 50 of lei per day
You're free when you want, except for weekends until Saturday
But what are the problems with NET UNLIMITED?
DIGI:
It has the most unlimited net. Unlimited Limited Offer 4G.

If you look closely, clearly write NET UNLIMITED 4G, but things are not really that way, because:
Digi has no 4G network than cities, with poor coverage
The Unlimited 4G Net is actually limited to 40 by GB on 4G, and only 10 of these on 3G
Outside the cities Digi coverage is terrible
Best of all: about 2G nothing says
If you are not 4G or 3G, you will you only have 128Kbps / 64Kbps NET UNLIMITED speed
You have very high chances that in 80% of the time to spin in the 3G network, where you have only 10GB traffic
Telekom:
These are the most bandits. If Digi can forgive him for being small and has no network, we can not understand Telekom unless he wants to steal clients from red and orange.

Issues that are not spoken in advertisements at NET UNLIMITED:
At any subscription and any card, you have limited network content for 1.5 Mbps and 480p resolution
How do they know their video content, does it spy my traffic?
Every subscription you have some traffic included, but to use it, and you can watch a bigger video of 480, you have to disable the Unlimited Net Bonus. Intuitive not?
Vodafone:
Nothing to say. If you overtake traffic, you have to pay, but at least you know what you are talking about and you have speed without limitations. There are no limitations to fixed net subscriptions, and that applies after the end of the traffic, so that you will not be charged.
Orange:
Nothing to say. Here if you exceed the traffic included in the subscription, you pay. Orange has cost control, an option that reduces bandwidth, which is only activated after traffic is over.
Conclusion, the truth about UNLIMITED NET
I do not care how much a subscription costs, how many benefits are included, these are details that are part of each service provider's strategy, but I'm interested in being properly informed and not misleading.
I have two subscriptions, one is Orange and the rest is on Telekom, and when I was in the hospital I had a Vodafone card with 100GB (good).
Telekom
Anything I try to do on the network telekom, I feel like there is an obstacle. I think it's a firewall that filtered the data, otherwise there was no way to make the difference between video traffic and other traffic. Although the coverage is very good, the net works extremely hard.
Orange
On orange I have no problem, just as when the terrestrial fiber network falls, it's like Orangeit's crazy. Otherwise everything is OK.
From my brief analysis, orange has the lowest prices for service quality and network stability.
Vodafone
Until recently I had no connection with Vodafone, but recently I was hospitalized for some 2 weeks and the only fun there was the internet. As the hospital network was available only to doctors, I used the mobile net. In 2-3 days I consumed all 8 GB in the Orange subscription.
After that I got a vodafone card that had an offer with 100GB. At first I did not believe it, but it was good, 100GB without limitations, so 2 week was a boyfriend. I broke Youtube and Netflix, what do you do in the hospital?
Digi
About Digi I do not know much, except my brother told me he could not access his surveillance cameras. This is because buildings are likely to be on 3G or 2G, where bandwidth is drastically limited after 10G on 3G, and 2G is limited all the time.
The truth about UNLIMITED NET - video tutorial