Schedule Digital Model Editor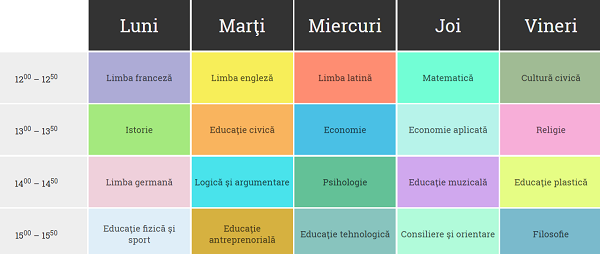 Schedule editable digital editing editor.
Old school timetable (analog)
It's easy to make a schedule, you only need a sheet of paper and write course hours and entry hours in a few minutes. This is the analogy!
Digital Timetable (for wallpaper or share)
I'm going to show you today how to make a digital and even editable schedule, all very simple in a friendly interface that helps us finish the job in minutes.
School timetable editor
Merit is not mine, but the person who made the schedule on the site https://www.diana-ionescu.ro/orar/. Everything is simple and extremely friendly, even for those who have no experience in the field.
How does the school timer use it?
From the beginning I have to tell you that you do not have any software to install. This is a web application running from a site in your browser.
To make a school timetable, visit https://www.diana-ionescu.ro/orar/ and start the job.
With the interface you will get used to it right away, especially as you will see how to do this tutorial.
What options do we have for the school timer?
1. Change Fonts
2. Color change boxes
3. Change individual or total font sizes
4. Add additional information to any box
5. Directly adding course hours
6. Edit individual cassettes
7. English or Romanian language
….and more
After we finish the school timetable ...
Once we've finished our schedule, we can print it, save it as an image (png), or as an HTML file that can be edited later on if it's wanted.
Web application template school timer.
https://www.diana-ionescu.ro/orar/
Related tutorials:
Digital Model Publishers School Schedule - Video Tutorial