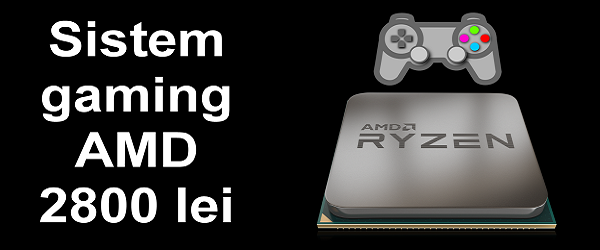 What is this tutorial about, AMD PC Gaming at 2800 lei?
In the AMD PC Gaming tutorial at 2800 lei, I recommend the best deal of the moment on AMD. A system with an unbeatable price-performance ratio.
Why is this gaming system so accessible?
The price is given by the Ryzen 5 1600AF processor, which is a kind of sales jocker, a best deal for AMD's budget system, a processor with an incredible price-performance ratio.
The R5 1600af processor is not the successor to the 1600, but a renaming of the Ryzen 5 2600, which only comes with a slightly lower frequency.
Another reason why the system is so cheap is that I used an affordable but high-performance video card, namely an RX 590 that is manufactured by XFX.
What is the equivalent of the processor and video card on Intel / Nvidia?
If we were to do an equivalence calculation, I would say that with a little overclock, Ryzen 5 1600af is equivalent to i5 9400f, but at half price.
The XFX RX 590 video card is found as performance a little below GTX 1660 ti but also at half price.
What components does the 2800 lei system consist of?
* Affiliate links - the site earns a small commission on the purchase
Purchasing guides, PC hardware or similar gaming:
Video tutorial - PC Gaming AMD at 2800 lei