Why PCs are weaker overnight - SOLVING update meltdown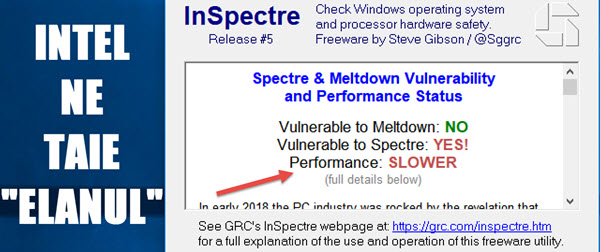 How do things with Meltdown, Specter, and PC performance?
A few days ago I told you about the Meltdown and Specter vulnerabilities, resulting in Windows and Linux updates.
System updates can only solve the Meltdown vulnerability, with manufacturers of motherboards, systems, or laptops providing users with BIOS updates that will resolve Specter vulnerability.
Loss of performance quite important!
Intel's older 4 (Haswell) generation processors may suffer significant performance losses.
To me (Ivy Bridge) it feels extremely losing performance. if until yesterday some web pages opened in 2 seconds, now the same pages are over 5 seconds to load.
How do we solve the loss of performance?
We have two solutions, and in both we will lose the "protection" for Meltdown. Why did I put in quotes? Because there is talk on the net like this with Meltdown and Specter is an extremely small problem, which has been exploited to influence the market.
1. The uninstall solution for KB4056892 (instructions in the tutorial)
2. Disable and enable protection when we want performance with InSpectre (tutorial instructions)
Theories of the Intel AMD conspiracy:
1. Intel and AMD Multiple Shareholders + (Intel and AMD produced in collaboration)
-If you look at Nasdaq, the Intel and AMD shareholders, you will notice that the major shareholders are quite similar in both companies.
- In the past, Intel's AMD collaboration has been stronger than ever, culminating in the launch of a Intel Core Processor and AMD Graphics.

2. The acceleration of "moral aging" (to make a bigger difference between the old and new processors launched) on the iPhone model

-If the product is still good, you just have to get an update to make it unused, which is done by Apple, Samsung, LG, and so on. Until now only Apple has been caught.
WEAKER PCS OVERNIGHT - SOLVING update Meltdown - video tutorial