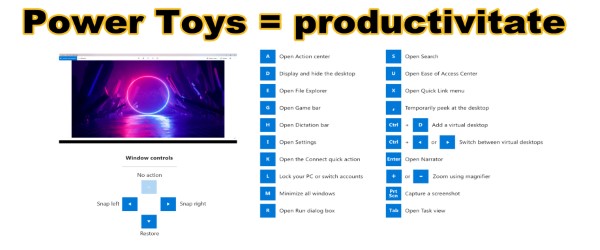 What is the PowerToys video tutorial useful for Windows tools?
In PowerToys useful tools for Windows I will show you what is and how to use the tools in the PowerToys package.
What are PowerToys useful tools for Windows?
PowerToys is a suite of tools, or a package if you want, with which the user can increase their productivity by simplifying tasks that must always be performed.
What does it mean to increase productivity?
Even if it is quite obvious, increasing productivity is improving efficiency and performing as many tasks as possible in a short time, or reducing the time allocated to certain tasks.
Increasing productivity is desirable especially in the school or office, where they work with repetitive tasks that if made efficient, give the user more relaxation or more things done at the same time.
How does PowerToys help us increase productivity?
The set of tools that Power Toys comes with helps the user to have shortcuts for certain frequent tasks, to create customized workspaces or to modify keyboard shortcuts.
Below are the main tools of Power Toys
PowerToys tools!
Color picker - helps us see the color code in a certain picture, video, applications, etc. - useful for graphic designers
Fancy Zones - allows modification by custom portioning of the work area - as a kind of desktop slice for working with multiple windows - useful on school and office
image Resizer - quick resizing of any picture on your computer - useful for digital artists, webmasters, youtubers, etc.
Keyboard Manager - reallocation of keys and modification of shortcuts
Power Rename - multiple renaming for any kind of files
PowerToys Run - a search engine launched by the key combination ALT + Space
Shortcut Guide - when you press and hold the key Win a map of shortcuts appears on the screen that can reduce your time with repetitive tasks.
Tutorials similar to Windows tools:
Video Tutorial - PowerToys Useful Tools for Windows