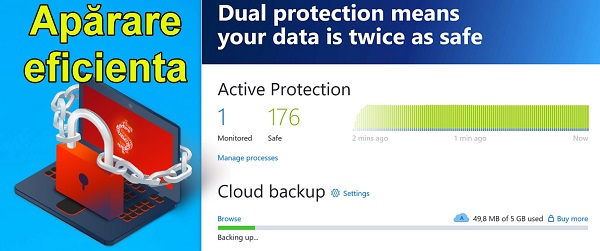 What is a ransomware infection?
Of all digital infections, the most "infected" is ransomware; That's because it encrypts your files, which are almost impossible to decrypt. It's like having the files, but you can't see them, because they are each enclosed in boxes that you can't open. Free ransomware protection Acronis Ransomware Protection
How to avoid ransomware?
Because ransomware is a rapidly spreading infection, it will not only affect your hard drive or SSDPC, but also external disks or storage in the local network (, external hdd, usb stick, ftp, nose etc.)
In principle you do not have much to look out for, that's why it is good to prevent. Prevention means storing files in the cloud or on external storage that are disconnected from your PC.
Acronis Ransomware Protection is not an antivirus.
Although it might look like an antivirus, Acronis Ransomware Protection is mainly a backup and synchronization program with cloud storage, in fact here is its power.
Of course, besides the secure storage in the cloud, which is the passive protection component, the program also has an active component, a module for scanning dubious processes.
What else does Acronis Ransomware Protection bring?
The plus on the book is Acronis is the security it provides us with the automated backups at 15 minutes, made for folders with important files of course, we choose.
What folders to choose for backup?
In the free version Acronis Ransomware protection gives us 5GB of cloud space. If we are going to use the space for important documents, then the space is sufficient.
We can back up pictures or video files, but they take up space and you will need to buy more space. Fortunately, we can always back up storage if we need to.
Malware Tutorials:
Video tutorial - Free ransomware protection Acronis Ransomware Protection