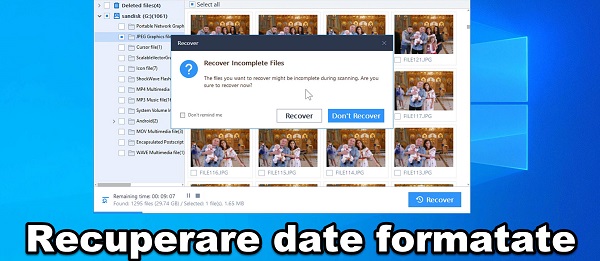 What is the "Recover Data from Formatted Disks" tutorial about?
The video tutorial "Recover data from formatted disks" is about how we can recover lost data from formatted disks, whether we have formatted HDDs, SSDs, SD cards or USB memory sticks, recovery it can be done regardless of the type of formatted storage device.
What is disk formatting and how does it work?
Formatting is the process by which a disk is ready for data storage. Formatting is done using a file system. The most common are NTFS and FAT.
Formatting can also be done on a disk with data on it. Then, if the quick format method is used, the disk sectors, where chunks of files are stored, are not rewritten, and are marked for rewriting. So theoretically the files are still there, even if we format a disk.
File recovery programs.
In today's tutorial, for recovering files from a formatted disk, we will use the EaseUS Data Recovery / This application works extremely well and manages in a relatively short time to find everything on the disk, even deleted files before.
Careful!
If you accidentally formatted a disk, and you want to recover the data, DON'T NEVER write something else about him, meaning you don't put files on it anymore.
Why does the formatted file recovery software find more files?
When we want to recover data from a disk, we have to be aware that over that time, several files have been written, even several times the capacity of the disk.
Therefore, when trying to recover data, it is possible that, for example a disk of 8 GB, the recovery software will find 10 or even 20 of GB of data.
All that data may or may not be complete, meaning the recovery program will find damaged files as well.
Download soft file recovery from formatted disks
Download EaseUS Data Recovery Wizard
free version limitations = 500 - 2000 MB recovered data
Related tutorials:
Video tutorial - Recover data from formatted disks (ssd, usb stick, memory card)