Fix Windows high resolution bluetooth windows (DPI scaling)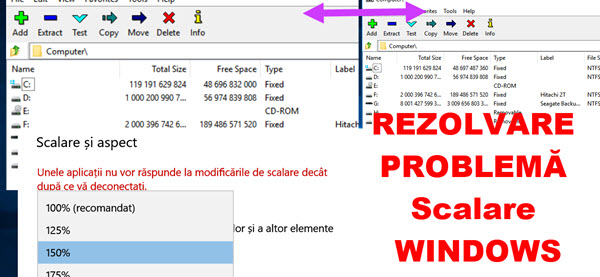 One of Windows's problems is the incorrect scaling of some applications or submenus when the DPI is scaled. We'll notice that as soon as we've increased the DPI to 125%, 150%, 175% or 200%, almost all apps show text, icons and graphics, blurry.
What is DPI scaling?
DPI scaling is mainly used on high-resolution monitors. Normally on an 100% DPI, a high-resolution monitor, operating system icons, text, menus, etc. in the operating system will see VERY SMALL.
To solve problems with displaying too few characters on the screen, Microsoft has provided the scaling option for the DPI. Unfortunately, this scaling does not get perfect results every time, in the case of some applications, we will see blued images instead of clear and well-defined images, as it should be seen on a high-resolution screen.
What's my problem with DPI scaling?
I bought a little one a while ago LG 4K monitor very good, which looks very good. Unfortunately, at some point, this Windows desperates me with its scaling, which is a kind of digital zoom.
Apply resolution, text, blued menus after DPI scaling.
After all, I found a solution, or rather a cloth, that sort of solves the problem.
In the properties of any application, we have the compatibility tab, where we can modify the application's DPI to 100%, no matter what DPI scaling has the operating system.
There are actually 3 options…
DPI scaling options in Windows without affecting applications.
Proprietăți aplicație > Compatibilitate > bifați "Suprascrie comportament scalare DPI înalt
Ce reprezinta fiecare opțiune de scalare DPI în parte?
Scalare efectuata de:
1. Aplicatie - aplicatia alege scalarea DPI optima (asta am ales eu)
2. Sistem - aplicatia este fortata de sistem sa adopte scalarea DPI a lui
3. Sistem imbunatatit - pentru aplicatiile mai noi in conformitate cu noile standarde Windows
.......experimentati si voi pe fiecare aplicatie in parte.....
Reparare ferestre blurate la rezolutie mare pe Windows (scalare DPI) - tutorial video