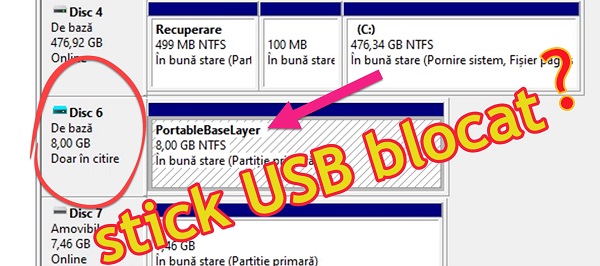 About PortableBaseLayer usb stick repair tutorial?
In the video tutorial Repair Portable USB Stick Unknown PortableBaseLayer you will see how to solve the problem of a USB stick not recognized by your computer and displaying the text PortableBaseLayer in Disk Management.
How does the problem of USB sticks that display the PortableBaseLayer message arise?
When inserting the USB stick into the PC, the PC does not recognize the USB stick.
When we enter Disk Management, we notice that next to the stick we have a blue icon instead of the disk, and instead of the volume we have the message "PortableBaseLayer?
When trying to do some formatting, delete letter change, etc., we notice that the stick has no active option in the context menu, neither for disk nor for partition.
Why PortableBaseLayer appears next to the USB stick in Disk Management
It seems that the main cause is the use of the new Windows Sandbox. Thus the stick is locked as long as Windows Sandbox is enabled.
How do we fix the problem with unrecognized USB sticks with PortableBaseLayer error?
It's pretty easy. We need to disable Windows Sandbox.
Disabling Windows Sandbox is made of:
Control panel / Programs and features / Enable or disable Windows features - and here uncheck Windows Sandbox and press OK
What do we do after disabling Windows Sandbox?
After deactivating the sandbox we will see that the stick in My Computer has not yet appeared. So, we have to go to Disk Management and allocate a partition letter, eventually we can do some formatting.
Related Tutorials:
Video Tutorial - PortableBaseLayer Unrecognized USB Stick Repair