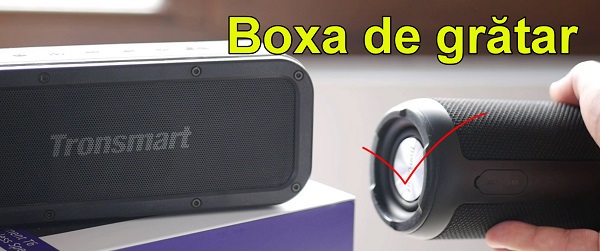 Where's the success of bluetooth speakers?
Before the existence of audio streaming via Spotify, Google Music, iTunes, etc., there were not very portable music solutions, and the grill musician had 2 options.
Open the trunk and make the most of the sound system in the car
He brought with him a portable tool, with batteries that were consumed immediately
In the first case, finish the battery from the car, and then look for current through the area to start the engine.
In the second case, you had to carry large batteries with you, which ended quickly and cost a lot.
The emergence of bluetooth speakers with batteries!
The second big "trick" after bluetooth was the batteries, which, after the end of the box you put it in charge and take it from the end. No need to give money to batteries.
The third big "appearance" that practically led to the explosion of the bluetooth speaker market was cloud audio streaming with services like iTunes, Spotify, Play Music, etc.
What's with today's bluetooth speaker?
It's called Element T6 and it's produced by Tronsmart, a Chinese manufacturer who does a good job. Overall, almost every Tronsmart product I bought was quality. A quality well above the average Chinese quality.
Element T6 is an 360 speaker, which means that no matter what position you are in, relative to the speaker, the sound designed by it will be the same, compared to the classic speakers, which are directional. In Romanian, the speaker is heard from any position.
Functions Tronsmart Element T6.
T6 is a speaker that does not boast of spectacular features or features. It is a simple speaker with a very pleasant sound at a price more than affordable.
minuses:
It has no water protection
It has no card slot
It has no synchronized volume
It has no USB-C, but only micro USB
pluses:
Very pleasant sound (full)
Sound projection at 360 degrees
Analog volume (rotary potentiometer)
Hands free function
Compact size due to the vertical position
Why do I like it so much?
For about three weeks I have been testing this box and I can say that it is my favorite boxing so far. Why do I say that?
First of all, whenever I make a barbecue, drink a beer outdoors or go on a short vacation, I choose Tronsmart Element T6.
In the house I have some 4 bluetooth speakers, but I choose this one, although it does not have the newest functions, water resistance or too high power.
If I choose this box every time, it means ...
The sound is perfect for my needs. At a small party with music in the background is unbeatable.
It doesn't bother you with the shrill sound, because the equalizer is perfectly tuned.
Even if you have it near the foot of the seat at almost maximum volume, it still doesn't bother you.
Where do I buy from? - Review Tronsmart Element T6
For any inquiries, We're here to answer you.Tronsmart Element T6 – select the deposit from europeFor any inquiries, We're here to answer you.
Revieves to other speakers and bluetooth (invented word)
Video Tutorial - Review Tronsmart Element T6