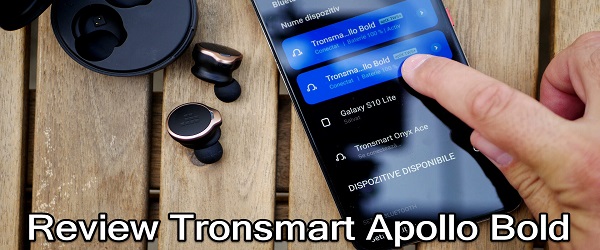 What is the Tronsmart Apollo Bold TWS + headset review about?
This article is a review of Tronsmart Apollo Bold TWS + headphones, in which I analyze and express my opinion about these headphones.
Review Tronsmart Apollo Bold TWS + headphones
What does TWS mean?
TWS stands for True Wireless Stereo and in this context refers to bluetooth headphones that are not connected to each other with a cable.
TWS headphones are more complex, a bit more expensive, but give the user more freedom of movement.
What does Active Noise Canceling mean?
ANC or Active Noise Canceling is the active reduction of background noise.
I'm not referring to the fact that you put your headphones in your ears in the hope that you won't hear anything; but to the technology that allows the cancellation of the background noise that reaches our ears, whether we listen to music or not.
How does headphone noise cancellation work?
We have several microphones, in our case, 6 microphones (3 on headphones) that permanently monitor the background noise that reaches our ears, after which the data is interpreted by the processor, in our case a Qualcomm QCC5124, which sends in our ears some artificially created sounds, meant to cancel the background noises.
Surprisingly, it really works, by reducing up to 35db, of course depending on the type of noise.
Specifications - Tronsmart Apollo Bold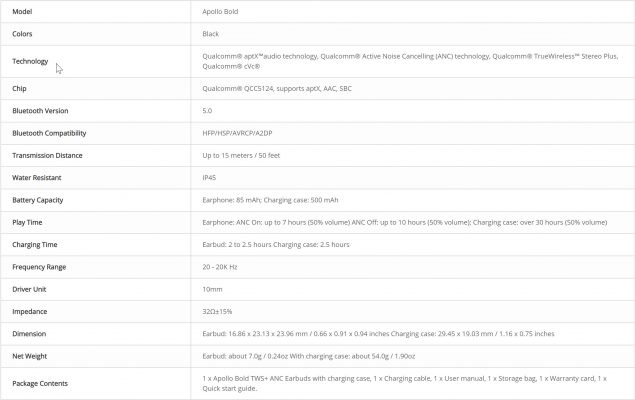 Does your head hurt or feel dizzy from active noise canceling headphones?
It probably depends on everyone's brain.
I, the first time I put on the headphones with the active cancellation of the background noise, and I activated the function, I started to feel a background dizziness, which started to fade with time; But for the first time it was a strange experience.
I think there are 3 categories of people:
Those who have no problem with ANC headphones
Those who feel something at first, then get used to it (like me)
Those who do not support headphones with ANC at all, because it causes dizziness and headaches
What is the Ambient mode on the Tronsmart Apollo Bold headphones?
These headphones have 3 operating modes.
Active Noise Canceling ON
Atmosphere ON
OFF (where all modes are off)
If the ANC knows what it means, Ambient is unknown to many.
The Ambient mode is useful for those who do outdoor sports, in crowded areas, for cyclists, pedestrians, scooter deliverers, etc.
The ambient mode allows you to permanently hear, in addition to music, the sounds from the environment; this way you will not be surprised by traffic or other dangers that with normal headphones you cannot perceive at the auditory level.
My opinion about the Apollo Bold headphones from Tronsmart!
For autonomy - 9.50 because I wish I could turn off the headphones manually
For ANC and for Ambient mode - 10
For sound quality - 9, good sound to very good in music and very good in calls, we hope to bring the app that will launch soon some equalization options
For design and comfort in use - 9, it would have been good to get better in the ear (but we also need autonomy and other technologies)
TOTAL NOTE - 9.40 - I recommend
Where to buy Tronsmart Apollo Bold?
https://affiliate.geekbuying.com/gkbaffiliate.php?id=1323&url=467503 * (delivery from Europe to your home, in a few days, free of charge)
*affiliate link
Related articles:
Video - Review of Tronsmart Apollo Bold