Debug network card failure Offline-No connections available (with red X)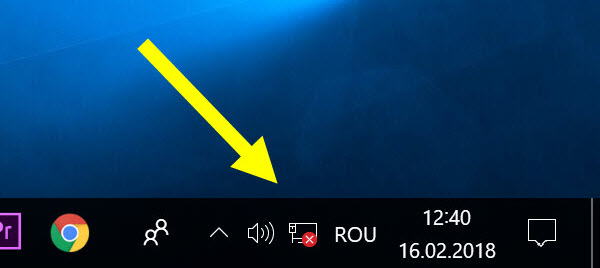 "Offline - No connections available"
A few days ago I received a Windows 10 update, which broke my network card, in the sense that a red X appeared on the network card icon, in fact it is a red circle with a white X inside. In addition to this red X, the message "Offline - No connections available" also appears when you hover your mouse over the network card in the lower right.
I said it was just a bios initialization problem because we had Fast Boot enabled on the motherboard in bios; But I opened my laptop Acer V15 Nitro and so on.
It's not the first offense to Windows 10 that.
The same problem I had and one one year ago… .To be something that appears once a year, when spring comes ???
Resolved for "Offline - No Connections Available" error.
The solution I am offering is actually a temporary fix to apply in case you turn on your PC and the problem arises. True resolution must come from Microsoft as an update that solves the problem. Surely there is something minor that will be solved.
Getting rid of the red X and the Offline message - Are not connections available?

1. Click dreapta pe "Acest PC" sau "This PC"
2. Apăsați "Gestionare" sau "Manage"
3. Pe stânga apăsați pe "Manager dispozitive" sau "Device manager"
4. Pe dreapta faceți veți avea toate dispozitivele hardware, cautați placa de rețea
5. Faceți click dreapta pe placa de rețea "cu triunghi galben" și apăsați "scanare pentru modificări hardware"

That's all, but do not forget, this operation will not fix the problem. Problems may appear again at the next restart, and you will need to resume the procedure described above.
Please solve the Microsoft problem!
Let's hope that Microsoft will solve this problem quickly, because not everyone knows this method of temporary solution; And as you probably know, people tend to go all over the PC, believing that they have done the damage, and during this "repair" process, they do more harm through the PC.
It's frustrating, because some have done credit, to which they have to pay many installments, to buy a Computer or a Laptop, and home the next day, the boom, the red X. This is a real case with a friend who, after making a credit, bought a laptop, after he arrived home he was given the hour of death, that he did not go to his network card; Good luck I could help him.
Tutorials
Solving problems in games, video drivers replacement
The fastest way to download drivers
PC startup error, Preparing automatic repair, Diagnosing your PC
Error 0x80070422 Windows Update or other services - TUTORIAL VIDEO
Overlay detected - error - Screen overlay detected

Network Card Error Resolved Offline-No connections available - video tutorial