Troubleshoot disk usage or disk usage 100%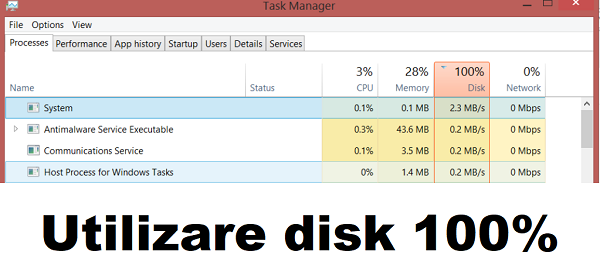 Windows is said to be an extraordinary operating system, as long as you do not use it. There are some issues with installing an application or antivirus in this operating system.
One of the problems that has been grinding Windows users for years to come is using the processor and the disk in the proportion of 100% most of the time.
Troubleshoot disk usage or disk usage 100%
Today we will discuss using the 100% disk. I will try to explain how to look at the problem and I will come up with some solutions that will probably solve 99% of cases. There are also physical defects that we can not solve and some small issues that we may not have heard yet.
Why the disc is used in proportion of 100%
Causes can be many, but it is best to take turns by elimination and after each setting check if the problem is still present.
Checking newly installed software and drivers
Often, after installing fresh Windows, everything goes smooth and the disk seems to have no problem.
Problems generally occur after installing programs, drivers, or updates.
To make sure the problem is not from any software, we have to take them one by one to see in the task manager if we can not identify the suspect.
Programs that use intensive disk
Antivirus or security site
Programs for viewing pictures
ITunes, which can sync pictures and videos
Programs that access storage very much (uTorrent, BitCoin Minere, etc.)
If 100% disk usage is not from software, then
If, after checking the software, possibly uninstalling or shutting down some of them, the problem with using the 100% disc persists, we need to move to the next stage.
Windows services that can use the 100%
We have 3 services that can use the 100% disk at some times or even permanently.
These are:
1. Windows Search
2. SuperFetch
3. Connected User Experiences and Telemetry
See the tutorial how to disable these services (Start / run / services.msc)
Besides services, we also have 2 settings that can change things for the better for you:
1. Get tips, tricks and hints while using "uncheck" Windows (Settings / System / Notifications and Actions).
2. Indexing disks in Windows: on disk / Properties / General / Allow files on this drive to be indexed… "uncheck"
After all this you give SSD optimization and defragmentation hard drives.
Solving the problem with disk usage or 100% disk usage - video tutorial
Useful Tutorials: