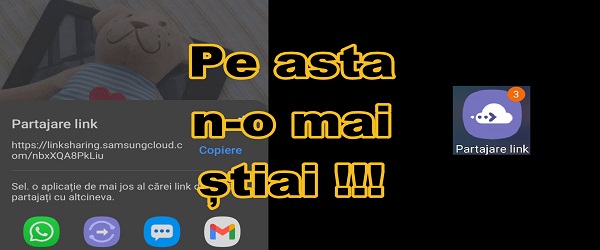 What is the Samsung Deep Buried Application File Sharing tutorial about?
Samsung File Sharing is an application deeply buried in Samsung menus about the existence of which few Samsung users know.
Very interesting is that this excellent application can be installed on other phones.
But what is Samsung File Sharing?
We all know that Samsung is a huge company that can make excellent applications with significant resources allocated, which smaller manufacturers can not afford.
Samsung File Sharing, or as it is called in English Samsung File Sharing, is a very well done file sharing application.
Based on a super fast cloud storage, free for 2 days (only the link is valid) offered by Samsung, with a limit of 5 GB per day; File Sharing is like an online space where you upload files extremely easily and quickly, after which a link is automatically generated to the file or files you have just uploaded.
You can copy the generated link or send it quickly.
Why is File Sharing so great?
The team of developers who worked on this application, seems to have been followers of utilitarian simplicity, because everything is super refined and simplified, but extremely efficient.
Less is more!
Deployment on phones is extremely simple, and the steps required for sharing are kept to a minimum.
You can upload whatever you want as long as you upload a maximum of 5 GB per day and an individual file must not be larger than 3 GB. Some pretty decent limits, if we consider that WhatsApp has 100 MB limit per file.
The generated link expires in 2 days
An excellent issue is that the links expire in 2 days, during which time the recipient has time to download the content.
On Google Drive you run out of storage space if you upload files, we don't have this problem here.
The best File Sharing app!
From my point of view it is the best application. Why do I say that?
The recipient does not need applications to view or download the files.
The cloud that Samsung does not provide is super fast, meaning that everything goes up super fast.
The link expires in two days, meaning the files are deleted (good for privacy)
We don't have ads in the application, in fact you don't even have to open the application to use its functions.
If you upload pictures with mixing videos, they can all be viewed in the browser just like in a gallery
The quality is not lost, the files are the original ones
Visual guide in pictures.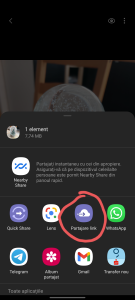 Even those with other phones can try to install the application.
Officially, File Sharing is a Samsung application for Samsung phones, but it is also a chance for those with other phones.
I installed it on Oneplus 3, which has android 9, and it worked. Colleague Adrian tried on android 11 and it didn't work, so you have a 50% chance.
Instructions for non Samsung phones:
Download the File Sharing app from Sammobile
Install the application without opening it
Go to Settings / applications / File sharing and grant all application permissions.
Launch the application and use it as in the tutorial
I hope it works for you (let us know what the success rate is)
Similar tutorials on file sharing:
Video Tutorial - Samsung File Sharing Application Deep Buried