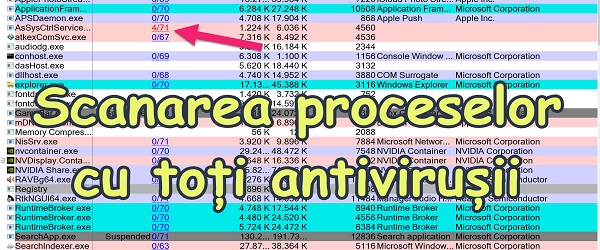 What is the Scanning Windows Process with All Antivirus tutorial about?
In the article Scanning Windows processes with all antivirus you will see how you can scan the processes in Windows, both Windows and other applications, with all antivirus programs simultaneously.
Why do you need to scan Windows processes for viruses?
Sometimes, the user, without realizing it, installs malicious programs bundled with programs that seem fine.
As it is almost impossible to detect a process of a malicious program, it is recommended to do an antivirus scan.
How can I scan Windows processes with all antivirus programs at the same time?
Whole virus is an online service that can scan anything we send for analysis.
Process Explorer is a utility from microsoft that can analyze and display process activity on the screen; And it does it in much more detail than the Task Manager can.
How do you send all Windows processes to scan and scan with 70 antivirus?
In the Process Explorer settings we have the option to check the processes with Total Virus. Once activated, the processes will be scanned with over 70 antivirus programs at the same time.
After the scan we will quickly receive a statistic next to each process, which will show us how many antivirus programs were scanned and how many of these programs detected that process as malicious.
What do we do if a process is found to be malicious?
Each of us has other programs installed and no two computers are alike. That is why we must understand that everyone must analyze the situation after a positive detection and make the decision whether to move on or not, whether to uninstall the program or not.
My advice is to quickly get rid of obscure programs that have proven to be infected as a result of scanning.
However, can antivirus programs give false positive alarms?
Sometimes antivirus programs also give false alarms, ie they mark a program that is a rule, that it is malicious.
That is why you must be careful when malicious processes are detected. Be careful and carefully analyze the respective programs and only after you have reached a conclusion, you can make the decision to keep or uninstall / delete, that process, program, file, etc.
Tutorials similar to devirus and system tools
Scanning Windows processes with all antiviruses - video tutorial