Recommended Facebook settings related to the Cambridge Analytica scandal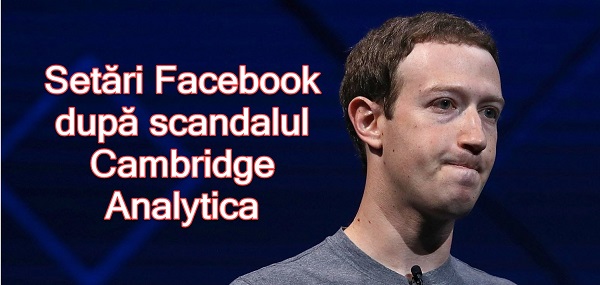 Recommended Facebook settings related to the Cambridge Analytica scandal. In today's video we'll explain the Cambridge Analytica scandal and the Facebook settings we can do about the situation created by this scandal.
What is the Cambridge Analytica scandal?
A developer has since created a Facebook quiz application some time ago. Once you used the app, it had access to all your Facebook data as well as your friends' data, even if they did not use the app. You were also affected if you did not use that app but used a friend of yours, that app had access to your data just because your friend used it.
After a while, the developer decides to sell the information to Cambridge Analytica.
It sells to Cambridge Analytica the information of over 50 million accounts.
Cambridge Analytica is supposed to use this information to create some psychogeographic profiles in which they enlisted over 50 millions of users later on to these groups, targeting and targeting a whole strategy and manipulation campaign to change certain political decisions, vote or reject them.
Recommended Facebook settings related to the Cambridge Analytica scandal
It is assumed that Cambridge Analytica would have been heavily involved in the United States elections where Donald Trump was elected president as well as in the Brexit referendum by which Britain left the European Union.
Also during the elections in the united states, the fake news scandal was also born. It is assumed that Cambridge Analytica would have created all sorts of fake news sites in an attempt to manipulate, news that was then promoted and targeted according to interest on Facebook to users who were part of a particular psychogeographic group. By trying to change or influence their cultural baggage.
What can we do and what measures can we take as users about these scandals?
Honestly, we'd better delete your Facebook account and stop using it. With this scandal, the #DeleteFacebook movement has also grown through which personalities from around the world have wiped out their Facebook accounts or official pages. Elon Musk, founder of Tesla, has announced his Twitter followers using the #DeleteFacebook tag that has deleted his Tesla and SpaceX page from the Facebook social network.
What other steps can you take if you do not want to delete your Facebook account?
- stop logging in to other social networks or other web services using Facebook. It seems useful and very handy to use your Facebook account everywhere, but what if you want to delete your Facebook account in the future or if someone breaks your account? Well, you will no longer have access to any service that you have logged in using your Facebook account. I always try to avoid logging in with my Facebook account when I create an account on another social service or of any kind. I'm always looking for the "use an email address" or "sign up using an email address" option. If the service does not have this option, you log me in using your Google account and not Facebook.
- go to your Facebook account, Settings, Applications and revoke / delete access to applications that you do not recognize, you do not know what they are and what they are used for. Also in this section go to Applications, websites and games and disable this option. This will prevent Facebook from tracking your activity on other sites.
- go to your Facebook account, Settings, Ads and deactivate or turn off everything that doesn't interest you. Also here you will find all kinds of settings regarding the ads that are displayed on Facebook.
- go to https://facebook.com/mobile/messenger/contacts and delete all the contacts that Facebook has collected from your phone. Don't save your phonebook to your Facebook account, but rather to your Google account. Go to the Facebook and Messenger app settings on your phone and turn off contact syncing as follows:
Facebook, menu top right with 3 overlapping lines, Application settings, disable Continuous Upload
Messenger, touch your avatar in the upper right (small circle with your profile picture), People, turn off Sync contacts, and Sync Instagram account.
Check these settings each time you reinstall these two apps or after you reset your factory settings to your phone or tablet and reinstall Facebook and Messenger apps.
- stop giving access to your Facebook account for all kinds of applications such as "find out what you will look like in old age" or "find out when you will die" or "find out what animal you were in a previous life" or "find out what sign you have do you understand best "or" find out what star you look like "or" find out how many children you will have "or" find out at what age you will get married "
We also recommend that you watch:
What Facebook knows about you and how you download Facebook data
How to disable or permanently delete your Facebook account
Video tutorial - Recommended Facebook settings related to the Cambridge Analytica scandal