Simple Backup Soft Backup Software for Windows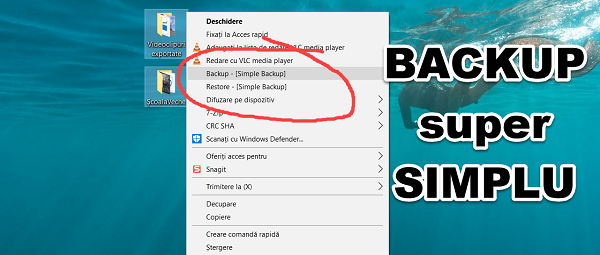 Simple Backup Simple Backup Software for Windows - Tutorial

What is backup?

Backup is the most important activity in the digital environment. Backup data backup is the operation by which we make a copy of the data we store elsewhere, preferably on another storage medium (when it is very important).
Why backup?

Because the data does not really exist, it's just 1 and o, they can be lost extremely easily by accidental deletion.
To make a general backup for Windows is very simple, but today I am going to introduce you a simple program that makes backups of the folders that it shelters for a subsequent restoration, in case things went wrong.
Why Simple Backup?

This application does not back up in the true sense of the word, ie a compressed archive of the operating system and files, but it is a simple application that sticks to the context menu (right click) and helps us make quick backups.
How much can we rely on Simple Backup?

This program is not meant to make copies of the data security that we store on another disk, stick, drive; Instead it makes our desktop work easier.
Careful!
This program is not suitable for storing important data in the long run.
Examples of uses for Simple Backup
1. When making changes to some pictures
2. When you want to clean the desktop and want to keep a copy of the data
3. Back up the files we frequently handle
Where does Simple Backup Store?
%AppData%\Simple Backup
Where do I download Simple Backup?
https://github.com/UweKeim/SimpleBackup
Related tutorials:
Simple Backup Simple Backup Software for Windows - Video Tutorial