Why set up a gaming system?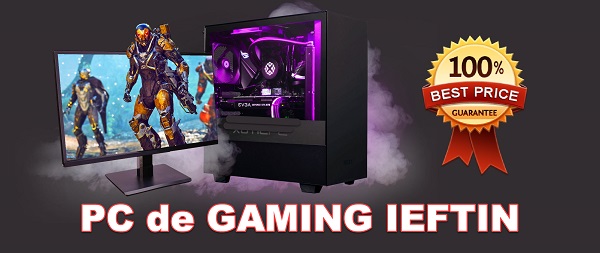 ... Cheap gaming system for 2020 ...
First of all, there are many people who use a gaming system, and the gaming PC can be used successfully in any other activity; While an office system doesn't go to gaming much.
The gaming PC has very high performance components that are useful for purposes other than gaming. For example, a gaming PC can also be very good at photo or video editing.
So it is wise to set up a gaming system, because you are selling more rabbits from a fire, and the price of a gaming system is not much higher, at least in the tutorial.
Components for a gaming PC are expensive!
... Cheap gaming computer ...
This statement is not entirely true, because expensive are generally the top components, ie the spearhead of the range. If you choose mid-level components you will have good enough performance with much less money.
In other words, we do not always receive performance for the money we pay.
I repeat, we find the best price-performance ratio in the middle range.
Wait a bit as the market sits!
… Gaming computer accessible for 2020…
When a new video card comes out, do not despair, and do not rush to buy it, because the price is maximum at launch. Wait a few months and then the price will be greatly reduced.
If you want the "truffles" you will wake up that in a few months your board will not cost even 70%% of what you paid initially.
What components did I choose for this gaming system?
... cheap PC gaming components ...
First processor, is an Intel i3 9100F, which in my view is the best choice for budget gaming.
It is a much cheaper i3 than the others because it does not have integrated graphics, and this helps us not only in price, but also in terms of heat, the processor being cooler than one with iGPU.
Motherboard is based on the B365 chipset, which is the best budget choice, having not only a decent price, but also good sense functions in the position, and here's the M2 PCI-e 3.0 x4 slot.
Video card is a GTX 1060. Even if it is not a new board, it is capable of flipping through any current game.
SSD is from Adata, the SX8200 Pro model. I recommended it because I myself use one for the system and I am extremely pleased.
RAM DDR4 is Kingston HyperX Fury at 2666 with CL16. A memory good enough for the price.
Source is from Seasonic, an entry level model for the environment, with Bronze certification, and it has to be quite quiet.
List of components for this cheap gaming system for 2020.
processor – Intel® Core ™ Coffee Lake Processor i3-9100F, 3.60GHz, 6MB, No 1151 Socket Integrated Graphics
Motherboard – Gigabyte B365M HD3 Motherboard, 1151 Socket
Video card – Zotac GeForce® GTX 1060 AMP Video Card! Edition, 3GB GDDR5, 192 -bit
RAM – Black Fury HyperX memory 8GB, DDR4, 2666MHz, CL16, 1.2V
SSD – Solid State Drive (SSD) Adata XPG SX8200 Pro 256GB, M.2-2280
Source – Source Seasonic S12II-520 Bronze, ATX12V, 520W
housing – Floston GRAVITY Black housing, Middle tower, without source
Related Tutorials:
Install NVMe SSD on older motherboards
Cheap SSD Acquisition Tips - Adata SU650 review
Move Windows to a new SSD or clone the operating system
Video tutorial - Cheap gaming system for 2020