Hi friends, today we have the super test connection speed Gigabit FTTH (fiber to the home). I will explain how it is with the latest internet connections made and review the factors that make us to be fast connection.
Gigabit site is zero if you do not have a latency and jitter as small a. In the tutorial I explain what is important to a connection, and explained in detail what is bandwidth, ping, jitter and bit which should be ping on certain distances.
In a last tutorial I showed As you can increase your speed when you want to download files from torrent sites (from users) torrent. There I explained how important it is to download parallelism, ie how to pull data from as many computers simultaneously.
But parallelism is very affected by ping. If you have very high connection latency (ping), then speed will not help us greatly.
Today's test connection that is extremely fast as it comes in the house fiber-optic and fiber light travels very fast, about 200.000 km / s or 200 KM in a millisecond. Enough Milisesunda thousandth of a second (1 / 1000).
GPON network typology is, that a gigabit optical network that works passively unsold need amplifiers and switches on the columns and the staircase.
Below are some tests you've done in the morning, when they were not busy networks.
Speed ​​tests are designed to Amsterdam, Paris, Bucharest and the US east coast.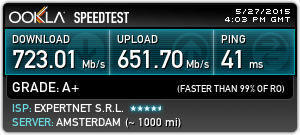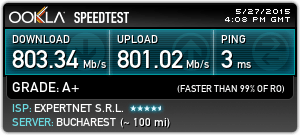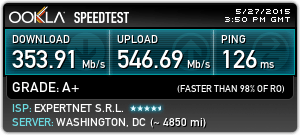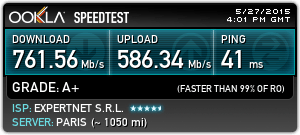 The response time is very good, especially for the US connection. Be sure to walk through the ocean fibers and there are also Sharks : )
How would speed internet in reality?
Imagine a 5 lane highway with cars and now follows the analogy:
Highway bandwidth =
Cars = packet data
Ping = speed of the car
Jitter = potholes, curves, intersections.
This is how the net works, and at peak hours… That's why the bandwidth of the subscriptions increases (the highway widens). Improved ping makes connections and packet transfer faster and fiber optic stability decreases Jitter.
A Cisco-ists to be upset with me that I simplified too much, but so great things.