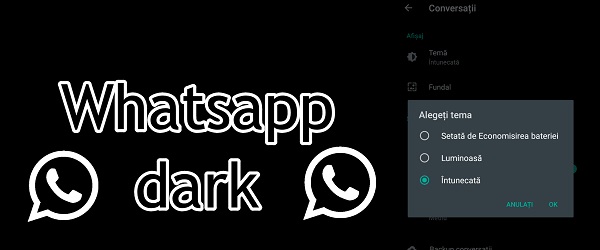 What is the black theme tutorial for WhatsApp?
In this tutorial, the black theme for WhatsApp, is a new setting that was introduced in the beta version of the WhatsApp messaging application. Through this setting, you can change the normal theme, which is light in color, and which can disturb the eyes, especially at night, with a dark theme, which protects the eyes while using the application at night or in dark rooms, such as cinemas, theaters, etc.
What do you need to do to have a black theme for WhatsApp?

In order to get this setting, which activates the dark theme for WhatsApp, you need to get the beta version of WhatsApp, and for this you need to test yourself at:
https://play.google.com/apps/testing/com.whatsapp
After you have been tested, all you have to do is look for the WhatsApp beta application, which is collected by play store search.
What do we do if we do not receive the WhatsApp beta tester?

If you are not getting into the WhatsApp beta tester program, and still want the black theme in the WhatsApp application, you can directly install a WhatsApp beta apk.

Download link WhatsApp Beta (black theme for WhatsApp)
Dark WhatsApp mode activates the black theme on WhatsApp
Enter the WhatsApp application 2. Conversations 3. Theme
Here are three options:
Set by battery saving 2. Bright 3. Dark (this is the black theme in WhatsApp)
If options 2 and 3 are easy to understand, you should know that option 1 (set to save battery) is how the theme changes automatically, depending on the battery saving settings in Android.
Similar tutorials (dark theme for….)
WhatsApp Beta Dark video tutorial