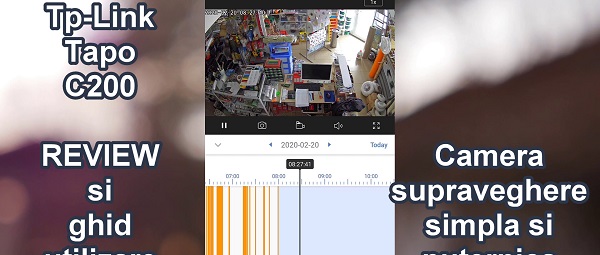 About this guide - Tp-Link Tapo C200 motorized camera review
Some time ago I installed two surveillance cameras Tp-Link Tapo C200, and after a use of 2 weeks is something, I'm pretty sure this is a product that I can recommend. Tp-Link Tapo C200 motorized camera review
Tp-Link Tapo C200 is not a product submitted for review
The surveillance camera mentioned in this installation / use guide, NU is a product submitted for review by Tp-Link. We have no connection with Tp-Link and the camera was purchased from our own funds.
Not even links or affiliate links they will not post for this room.
Whoever wants to find and buy the room, can do a simple search.
What kind of surveillance camera is Tp-Link Tapo C200?
Tapo C200 belongs to the category "SMART" or "CLOUD". This means that this camera is different from the classic IP cameras, for which a more complex installation and different router settings are needed, which hinders the success of a technical person in the installation and setup.
With Tapo C200 everything is super simple. You do not need knowledge, you do not even need a PC, because the installation is done from the Tapo application, on the phone.
Tapo C200 camera type and functions - Tp-Link Tapo C200 motorized camera review
The C200 is a PT or indoor room Pan and Tilt, that is, you can rotate left-right and up-down.
Are Night Vision, provided by some very strong infrared LEDs, which spread evenly throughout the infrared ray. The distance at which "infrared" infrared rays at night is about 9-10 meters.
Another important function is that of Card registration. This is why the Tapo C200 camera has a Micro SD slot that supports up to 128GB cards. The recording time I do not know exactly because it depends on the recording mode chosen, Continuous Recording or Motion Detection Recording. However, two weeks after the installation, the card did not fill, and when it is filled, there is the option of automatically rewriting the oldest records.
Interesting features and options included in a list:
Up-down and left-right engine room 114/360 degrees
1080p resolution at 15 fps
Micro SD card registration, max 128GB (to be purchased separately)
Easy installation by application and Wi-Fi, without cables (has wi-fi)
Notifications directly on the phone upon detection
Alerts on the camera for detection
Microphone and speaker on the camera, sound both ways
Night Vision (infrared lights for night), radius almost 10 meters
1 / 2.9 "sensor, F / 2.4 aperture, 4mm focal length, full frame equivalent = about 27mm
Watching recordings right from the phone - the recording viewer interface is very well done
2,4GHz Wi-Fi, max 150Mbps
Advantages:
Cheap, around 150 - 190 lei
Extremely easy to use - with application
Pan-Tilt motorization
Infrared - 9 meters
Micro SD Slot Card - 128GB
Sound in both directions - voice call or push to talk
In-app notifications on tel - at detection
Alerts on camera to scare intruders - alarm sound on camera
Cheap - yes
JEFTINĂ - it is
Disadvantages:
There is no model for the exterior
It does not withstand temperatures below 0 degrees Celsius
It can only be mounted in the area with wireless coverage
Tutorials / IP camera guides:
Video installation guide - Tp-Link Tapo C200 motorized camera review