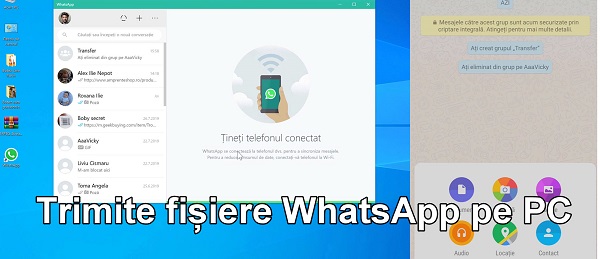 What is this tutorial for?
This video tutorial (Download WhatsApp File Download on PC) will show you two things, very useful for WhatsApp users.
Download WhatsApp files to your PC
Sending files through WhatsApp, on PC
How can I send files from Whatsapp to PC?
Even though WhatsApp is a mobile application, it can also be used on the desktop, using the WhatsApp Web feature.
WhataApp Web is a feature made available by WhatsApp service administrators, so that users can also connect from their PC or even from any other device through a Web browser.
How to send files through Whatsapp on PC
Using the "Group" function, we will make a group with one member and the administrator (who we are). Subsequently, after the group is created, the only group member will be deleted.
The group will only stay with the administrator, meaning only we will be in the group.
This way we can send files to the group and we will receive them as well.
After setting up the group, we will install the WhatsApp application on the PC, or use the WhatsApp Web application to receive the files on the PC (see the video tutorial).
Are there alternatives to transferring Wireless files from your phone to your PC?
Of course, there are many alternatives. Only we have offered dozens of solutions (see similar tutorials below) for file transfer between smartphone and PC, but this solution is available to any user of whatsapp who wants to download a picture to the PC and does not know how.
Related tutorials (transferring files from phone to PC)
Any Send, fast transfer of files between phone and PC via WiFi
How can quickly transfer files over the wireless network between your phone and PC
WiFi Direct, quickly transfer files between Android phones
AirDroid 3 desktop quickly transfer between the phone and PC
Video tutorial - Transfer download WhatsApp files to PC