Transforming digital books into some kind of audio books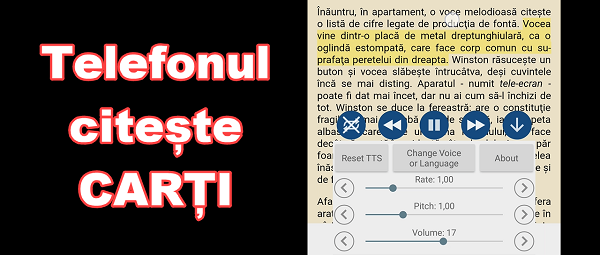 Many say that nothing compares with reading a true book. I would say the experience is somewhat similar to an ebook reader, except perhaps the smell and the rustle of paper. I think the scribes at the time of the printing press were so. Regardless, the book, but not any book, makes you something more "unprotected," and that's good, I say.
Now, in these agitated times, we are dealing with something else; Man has no time for anything and if he wants to read a book, he has to do it in the dead times between service, school, home, etc. Here comes the "book" in the audio format, or the audio book, which helps you put in hands free hands and eyes free, a lot of information.
The problem is that we do not have too many audio books in Romanian.

How things work with us, things are always moving more slowly, and that's also because there is not too much demand in the audio format.
The solution comes from the software that reads our eBook book.

I found an Android software called Voice that works very well. Using the TTS engine on your phone (Google or another), we read our audio books in any format. Now you realize that it's not like reading your grandmother's sleep story easily, but it works. The voice is kind of robotic at times, but it goes without saying.
If you want a better voice, we have Joan.

Vocalizer is an application that comes with its own voice and TTS engine, and to Google TTS is a bit more "manly." Finally, after using both TTS engines, Google and Vocalizer, you realize that it's not that big difference, and if you want to make savings (as Ioana asks for money after 7 days), you can stay with Google TTS on which anyway you find on any Android phone.
I also found a free book application.

Digital Library is a Vodafone app (not an ad), where you can download a lot of free books. Books are organized under categories and are quite multicultural.
And More Free eBooks ...

If you want more free eBooks, see my tutorial How do you put covers on the eBook, Kindle Paperwhite, FREE BOOKS.
<H3>
Tutorial Applications:
1. @Voice
2. Vocalizer
3. Digital Library
Transforming digital books into some kind of audio books