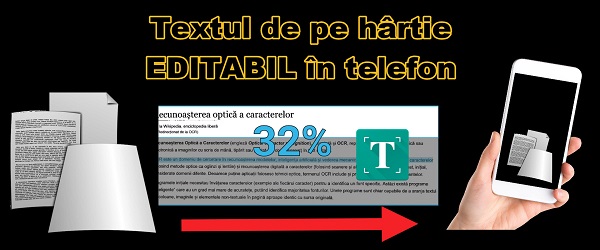 What is the video tutorial about transforming writing from paper into EDITABLE text on the phone
When I say the transformation of writing from paper into EDITABLE text on the phone, I mean the use of OCR technology, to recognize the text on paper and bring it to the phone in digital format, which means EDITABLE TEXT.
What is OCR technology?
OCR means optical character recognition, or in Romanian, optical character recognition.
OCR can help us scan text that is on paper or other materials (walls, panels, displays), and turn it into editable text for later use.
OCR - the bridge between analog and digital in optical plane
Paper text is physical - The text you write on your phone is digital.
OCR comes to somehow unite these two worlds, or rather, to help the physical text on paper to enter the digital world, where it can be edited.
What is the use of transforming physical text into editable text
In the context of online schooling, students and teachers need to make the widest possible use of digital content where possible.
presentations - in a digital presentation you can use quotes from books without having to paste pictures in the presentation or manually copy a lot of text.
Translation - once transformed into an editable format, the text can be translated very easily. This allows you to quickly translate texts from books, documents and more.
OCR application in the tutorial:
OCR on PC
In the past I have done several tutorials related to OCR technology and how to use it.
Below are some tutorials on OCR on PC or even mobile.
OCR tutorial
Video tutorial - Transforming writing from paper into EDITABLE text on your phone