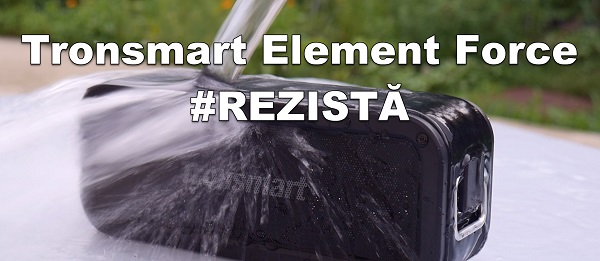 What should a bluetooth speaker be so perfect?
There are some features that we want to bluetooth speakers when we want to buy one
The most important thing is sound quality, which has to be balanced or enhanced on the low, with more bass, according to preferences.
Follow battery, just talking about portable stuff.
Resistance to dust, water and shocks, to stay calm on the beach, pool or in the rain (IP rating).
Playback capabilities other than Bluetooth (jack jack aux, micro SD card slot)
price is another extremely important factor
Tronsmart Element Force review - a very exciting boxer
The Tronsmart bluetooth box ticks all the important features and functions, and that at a very good price (Chinese magic)
We have a strong and balanced sound with more than satisfactory volume. In short, it sounds loud and good.
I can not say that it sounds better than equivalent speakers in power from more well-known manufacturers (Bose, JBL), but it certainly does not cost so much.
Functions of Tronsmart Element Force
IPx7 certification - water resistance up to 1 meter for maximum 30 minutes.
High power of 40W, we have two 20deWati speakers and two passive radiators (for bass boost)
Autonomy 15 hours at a volume of 50%, ie 2 × 10 Wati
Equalizer with 3 positions: Extra Bass, Standard and 3D
NFC support
Opportunity pairing of two speakers for an enhanced stereo effect
Solid construction with quality plastic and silicone
Music playback without Bluetooth
Tronsmart Element Force is primarily a bluetooth speaker, but it can also play WAV, FLAC or MP3 files on a Micro SD Card.
In addition to bluetooth connectivity and Micro SD card playback, this bluetooth speaker also has an AUX slot to connect to any one that has a jack (jack-jack is included), so you can also connect a portable radio to this box.
What is the Tronsmart Element Force bluetooth box?
You have a link below on geekbuying, from the warehouse in Poland.
💶
💶
If the warehouse in Poland is not chosen, choose it, it's cheaper and comes faster.
Related Video Tutorials:
Tronsmart Element Force Review - bluetooth box - video tutorial