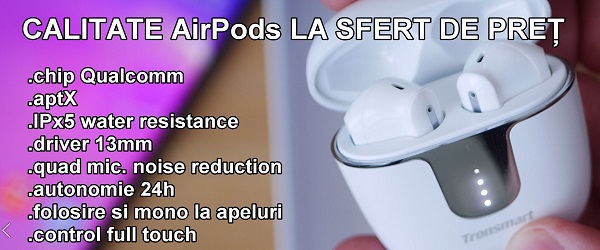 What is this video review about: Tronsmart Onyx Ace TWS quality?

In this video (Tronsmart Onyx Ace TWS quality) I will present a pair of high quality TWS (true wireless stereo) headphones, inspired by the appearance of the famous Apple AirPods, but for a quarter of their price from follow.
What are TWS (true wireless stereo) headphones?

Usually when we talk about wireless headphones, we just think that they are headphones that we no longer connect to the phone.
The truth is a bit further, because the first models of so-called wireless headphones were connected to each other with a wire on which was the battery and the remote control. Those were pseudo wireless.
Manufacturers were bringing out such wireless headphones, which are still on the market, because from a hardware point of view it is harder to make truly wireless headphones.
Tronsmart Onyx Ace does not have the problems that most wireless headphones face

In general, when we talk about bluetooth headsets, we can't help but think about the problems we encounter when using such products:
Audio-video desynchronization - is the difference between image and audio or sound delay.
When you listen to music, it's not a big deal that the sound arrives later. Unfortunately, in games or watching movies, the delay between what is seen and what is heard in headphones is super annoying.
Clogged sound - the sound feels undefined, flat and without personality. This happens in the absence of quality components
Bad sound in calls - in calls, where we do not have efficient processing, good microphones and microphones to eliminate background noise, we choose with calls with bad sound on both sides.
Lack of commands or poorly implemented touch commands - this is what we encounter almost all the time on TWS clones, of course among other problems.
Why is Tronsmart Onyx Ace the best pair of TWS headphones at a decent price?
There are some serious reasons to consider when buying a pair of TWS. Here are some features you may find in other children or clones:
Qualcomm chip for fast and stable connection
Qualcomm aptX technology for lossless quality sound
Additional microphones to reduce background noise in calls
13mm drivers
24 has autonomy with the case and 5 hours without the case
Sweat resistance
IPx5 water resistance
Touch control
Assistant support (Siri, Google, Alexa, Bixby)
10. Possibility to use mono, only one headset for calls
Related Tutorials:
Price Tronsmart Onyx Ace (TWS true wireless stereo headphones)
* affiliate link
Video tutorial - Tronsmart Onyx Ace TWS quality