Google Maps tricks well to know before the holiday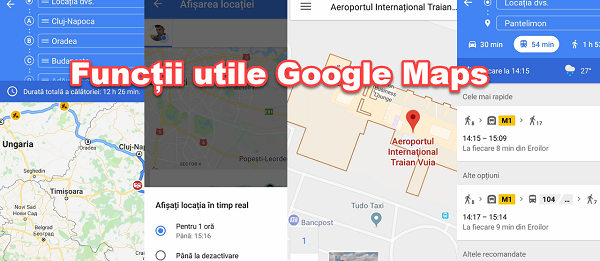 Why Google Maps?

Google maps is probably the cleanest and at the same time bidding program for navigation and planning
of trails.
Even though there are other options on the market, Google Maps remains the most reliable program of its kind. In general, when users have some inconveniences in other applications, or simply want more options, they return to Google Maps as the "mother ship".
There are a lot of unknown options in Google Maps:

From measuring distance (see in this tutorial) and downloading Offline Maps (see here), we have a lot of options that we do not find in other applications.
Google Maps does not come with the user manual.

In general, Google applications do not come with user manuals or too detailed guides. We find online or forum information but how the world has no time, I thought to show you some simple tricks you can use on your vacation, or even on the everyday roads.
Google Maps Tips to Know Before the Holiday:
1. Traveling without car navigation (the advantage of seeing traffic, roads, but getting rid of the background voice).
2. Route planning "like a boos", in one piece, in the smallest detail (with gas stations, stops and attractions on the road).
3. Indoor Maps, allows us to see the floor plan of the buildings and the attractions at each level.
4. Show location, allows us to distribute our real-time location with friends, relatives (we have limitation options).
5. Location distribution, is a useful option when you want to send someone a custom route.
6. Route personalization, an excellent option when you are not happy with the routes offered by Google Maps automatically.
7. Redirect the route, it is useful when we want to get out of the way to get through other areas on our way.
7 Google Maps tricks well-known before the holiday, for those who want to control in the smallest details the road, stops and especially the efficiency of the trip.
Do not forget about Roaming before traveling.

And even if you forgot to activate roaming before you leave the country, do not despair, you still have a chance.
How do you activate roaming and data from abroad on Orange Vodafone and Telekom
If you do not have the net or go on unpaved roads, Google Maps is not the best solution.

Go to an area where Google Maps and other apps are useless. Use the Maps.me application, an application that also helps you on unmarked routes, and that works 100% offline.
Best offline navigation and maps (for holidays abroad)
Holiday Tutorials:
Latest version of Google maps - Android or iOS
Google Maps tricks well known before the holiday - video tutorial