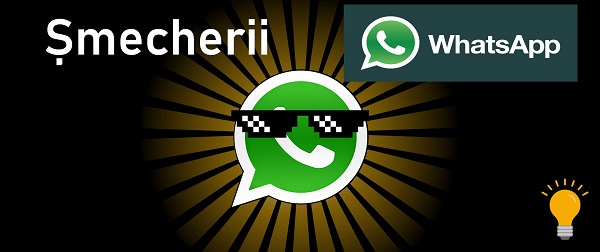 Why does WhatsApp have so much success?
Cheats and Tips WhatsApp 2019:
The WhatsApp application is what the SMS application should be, if, of course, those who deal with standards and mobile networks are moving faster.
WhatsApp fills a void that the SMS has left when left out of the speed with which communications networks have developed.
Apply to Facebook comes with image and video transfer, the possibility of organizing groups, with various comfort functions and lack of limitations.
Whatsapp has many undercuts!
For the application WhatsApp to keep a simple and intimidating interface, the developers have implemented all sorts of tricks that are not so obvious at first glance.
Because it's a mobile app, the classic touchscreen controls such as tap and hold, tap and drag, pinch and zoom, pinch and rotate, etc. are almost used.
Because the tricks are not so obvious I made this guide: Cheats and Tips WhatsApp 2019.
Lesser known settings WhatsApp 2019:
Reply - responds punctually to certain messages, even older ones
Swipe right for reply- exactly to reply, but simpler
Text on image - change font, size, color and position
Stickers on images - change frame color and size
Voice messages without holding your finger - more comfortable sending audio messages
Change pencil thickness - useful when drawing on pictures or gifs
Customize GIFs - edit GIFs before sending them
Change text message style - writing with bold text, italics, etc.
Other WhatsApp tutorials:
Video tutorial - Tricks and tips WhatsApp 2019