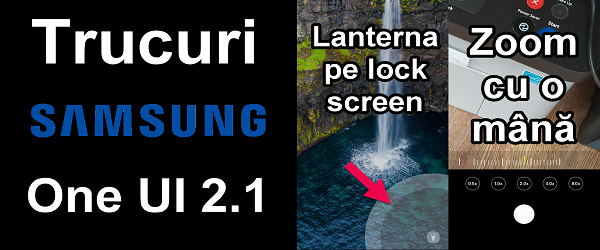 What is the Samsung Cheats with OneUI 2.1 Cheats tutorial about?
In the video tutorial Tricks Samsung phones with OneUI 2.1 we will show you some lesser known settings from Samsung phones with One UI 2 or 2.1 interface. These lesser known settings can help you use your smartphone more efficiently.
What is the Samsung One UI 2.1 interface?
One UI is the interface of Samsung phones, which was introduced in 2018, and first appeared on the S10 range in 2019.
One UI comes after the much criticized interface, TouchWiz, which was probably the most criticized smartphone interface in the world.
Samsung One UI it is a much simpler, more airy and more intuitive interface; In addition, One UI comes with a lot of new features that in TouchWiz were too buried in the menus, or simply were not highlighted.
In conclusion, One UI is a more simplified, more serious interface that helps you find what you need at every step, because it also uses a kind of shadow AI, which seems to know what you are looking for.
One UI has reached version 2.1!
It seems that Samsung engineers have refrained from putting "new features" with each version.
From one version to another, everything seems to become more contextual than in the previous version. It feels like the settings you need are "coming" closer and closer to the user's fingertips.
In addition to simplification and "contextualization", the settings become more and more intuitive, in contrast to the former TouchWiz interface, where you found more frustration than satisfaction after using the phone.
Some of the lesser known settings in One UI 2.1
Putting the flashlight on the lock screen (you no longer need to unlock the screen)
Mute temporarily, for 1,2 or 3 hours, after which the phone returns to the normal sound profile.
Lock screen dynamic, where you have a different image every time you unlock the screen, so you don't get bored of the phone.
Cursor with space key, for more precise text editing
Zoom in with the same hand in the camera app, so you can do something else with your second hand
Forced storage of applications in memory, to edit the application reload
Open the camcorder instead of the photo, because maybe you like filming more
Launch applications in pairs (split screen) from side panels
Adjusting the intensity of the flashlight very simple
Related tutorials, Samsung, Android, Gadgets:
Video Tutorial - Tricks Samsung Phones with OneUI 2.1