Hi friends, today I will make you acquainted with the best router that I had so far, is Asus RT-AC56U or short AC56U.
It is a powerful wireless router has the same features and options that are found on or AC68U AC87U but at a lower price. Anyway you can do with 1900 or 2400 Mbps and you can not with 1200 Mbps.
Currently there are no NICs that can embarrass the router, meaning you can not give up pozibil band.
With dual core processor ARM Cortex A9, AC56U can result in back 300.000 theoretical connections simultaneously is virtually impossible to make him kneel.
Available bandwidth is enough for any current device with wifi, 300 Mbps in 2.4 Ghz and 900 5 Mbps baseband Ghz.
Fastest mine is Oneplus One device that is connected to the router and got a speed of 390 Mbps.
The desktop connection is top speed and 1 ping ms something I have not met any other router.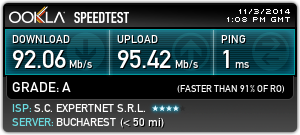 Everyone is talking about Asus routers that are heated excessively. To be honest, I have concluded that the router would overcook. Face temperature is around 35 degrees and back around 45 degrees. In the nuclei temperature is between 55 65 degrees Celsius and rarely reach 70 degrees, but for short periods (temperature taken from the terminal).
You have to be realistic, it's a dual core ARM processor device to 800 MHz passive cooled that comes with plenty of features and which feeds two devices simultaneously via USB (USB 2.0 3.0 and UBS), a modem and a hard drive 3G 2.5 inch external. I do not I find it too hot, but I certainly know a router is very .... "Hot".
Special features seldom found on other routers!
1. VPN Server
2. FTP Server
3. Server iTunes
4. Samba Server
5. Different configurations Dual Wan (Wan + Lan, Wan + USB)
6. Support 3G modems and 4G
7. Print server
8. Download manager (torrent, http, emule)
9. 2.4Ghz and simultaneously 5Ghz
10 broad support for custom firmware
11 6 guest wifi connections
12 support Time Machine backup (MacOS)
13 anti DoS Firewall
14 advanced traffic monitoring
15 Parental control with multiple filters
Asus RT-AC56U Worth?
Undoubtedly, it is a router that covers the needs of any user. Never since I have not seen this router Loader (loading sign) on youtube, even at maximum quality watch.
The only problems occurred when he fell provider network fortunately 3G modem connected automatically and we did not even 2 minutes without net.
Asus RT-AC56U can do almost any work environment (indoors), no matter how crowded it is, has hardware that help him to do that without sweat.
Where other routers have shown the limits of the Asus RT-AC56U shone, managing bandwidth and data packets like a champ.
Recommendations:
ASUS Dual-Band Wireless-AC1200 USB3.0 Gigabit Router, 802.11ac, 867Mbps (5GHz) 802.11n, 300 Mbps (2.4GHz) 2.4Ghz / 5Ghz con-current dualband, ASUS AiCloud / AiRadar / VPN Server / USB Printer Server / FTP server / Dual-core CPU
However if you have enough budget AC56U will recommend another router, as good, just give up advanced features. however most users do not use advanced features. (Good for Gigabit RDS)
ASUS Black Diamond RT-N15U 300 Wireless-N Multi-Media Home Gigabit cheaper - Router, Gigabit Ethernet, USB Printer sharing, 3-In-1 (Router / Range Extender / Access Point), 4 Guest SSID
If you have very large budget and you want (the best for the money), I recommend AC68U.
Asus RT-AC68U Dual-Band Gigabit Router Wireless-AC1900, 3.0 USB, IEEE 802.11 / b / g / n
Finally, if you last fitza in the field, will recommend the fastest router in the world (the best of the best), which has the largest coverage is AC87U
Wireless Router Asus RT-AC87U Dual-Band Gigabit Wireless AC2400 (Their father)