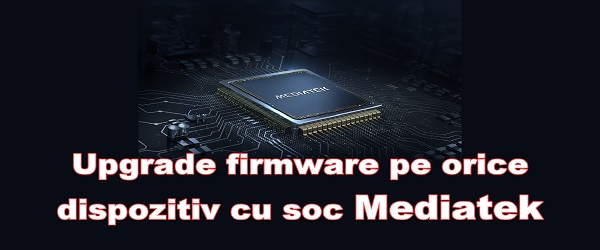 What is the video firmware upgrade tutorial for Mediatek phones?
In this video tutorial, Firmware Upgrade for Mediatek Phones, we will see how to upgrade firmware for devices with Mediatek processors that do not receive OTA (over the air) updates.
What is a firmware upgrade?
The firmware upgrade or update, because they are used interchangeably, is done when the manufacturer makes changes to the software, designed to improve the user experience or fix some problems.
The firmware upgrade is actually the upgrade to a higher version of the software, for example the upgrade from iOS 13 to iOS 14, or from Android 10 to Android 11.
What is an OTA update - Firmware upgrade for phones with Mediatek
OTA it comes from Over The Air Update, meaning when you receive a notification on your phone that you have an update available, and all you have to do is click on download and install to install it.
Why don't we have OTA updates on all devices?
Large manufacturers provide users with updates via OTA, which is a convenient method for users, but which from the company involves additional costs, which the user does not feel, please, does not feel directly.
Small manufacturers do not have the resources that large companies like Apple or Samsung have, and they provide users with updates less often and when they post an update, it must be done manually.
Manual firmware upgrade for devices with Mediatek processors
In the video tutorial you have extensive information about the conditions under which we can upgrade the firmware, what we need and what conditions we must meet.
Below is the link to the SP Flash Tool, which is the most popular firmware flashuit on Mediatek system on chip devices.
...
...
ABOVE ALL:
BACKUP IMPORTANT DATA BECAUSE IN SOME CASES DATA MAY BE LOST AS A RESULT OF A FIRMWARE UPGRADE !
...
Android-like tutorials:
Video tutorial - Firmware upgrade to phones with Mediatek