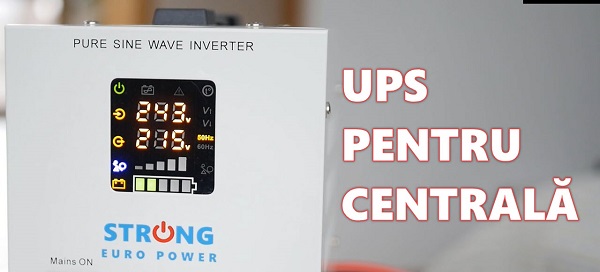 Only pure-wave ups go for central and other inductive loads
If you have a central heating station, you probably had at least one current, and you noticed that the boiler does not work anymore
At solid fuel plants, this is dangerous, because the pumps that recirculate the heating medium stop and the boiler overheats
The normal ups and the computer ones like that Mustek 2012 go well with PCs, TVs, radio sets, etc, that is, anything that does not have a motor. For power plants, refrigerators, air conditioners and others with motor, computer UPSs are inappropriate.
What are extra pure UPSs?
Pure Wave UPS for power plants have a special inverter that generates pure sinusoidal current, just like the power supply.
Computer UPSs have a simulated wave, which can damage the machines that work
Another advantage of the UPS for the thermal plant
The use of external batteries is the strong point of the heat pump ups. In fact, these UPSs are not just for the heat pump, they can be used for any electrical or electronic appliance.
When you have an external battery ups, you choose the battery yourself, which leaves you free to have as much autonomy as the power stops.
Can you use a UPS for the power plant and something else?
Yes, as mentioned above, computer ups, generally have simulated waves, are exceptions but they all have a simulated wave. The simulated or square wave is destructive for engines, that is, for the heat pump, recirculation pump, refrigerator, air conditioning, etc.
What battery can I use for the UPS in the tutorial?
Recommended is a Deep Cycle battery, but if you do not have frequent and long stops, you can also use a car battery. Preferably, the machine's battery will be as big as not to drain too much of it. The battery of the car does not support deep discharges, so a bigger battery will provide generous autonomy until it goes up to the current, without risking damaging the battery.
Where do I buy this UPS?
On the market this model is under the names Strong, Volt Polska and Kemot. I think it is the same oem manufacturer, but it produces for different brands with small changes.
Prices:
Volt Polska - ups the price of the center depending on the power
Strong Euro Power - ups central price depending on power
Kemot - ups central price depending on power
UPS with pure wave for the boiler and everything else - video tutorial