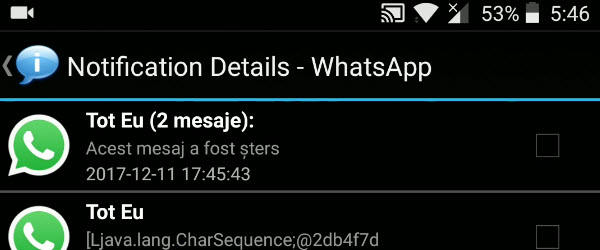 WhatsApp, how we read the deleted messages
Hello friends, in today's tutorial we'll see how we can recover deleted messages from WhatsApp or how we read deleted messages from WhatsApp.
About deleting WhatsApp messages
Not many people know that WhatsApp offers you the possibility to delete one or more messages sent to those you are chatting with. In other words, if you send someone a message to your nerves or in error, your message is sent to another conversation, you can change your mind and delete the sent message before it is read by the recipient.
When you delete the message, as shown in the video tutorial, you can delete "Just for yourself" (in which case the message will only disappear from your conversation but will remain in the conversation of the person you are writing to) or delete it "For everyone "(in which case the message sent will disappear from your conversation and the conversation of the one you write with)
Also this function to delete messages, we also have it for groups.
How do I see a WhatsApp message I deleted if I did not get to read it before the sender deletes the message?
It's very simple, we install the Notification History app we find in the Play Store, we give it the necessary accessibility and access permissions from now on, even if the one we're talking to on WhatsApp will delete the messages before we get them we read, Notification History will record all received notifications and at the same time the messages that accompany the notifications.
Can I see or recover deleted messages I received before installing the Notification History app?
Obviously, the answer is no. The Notification History application logs the notification history from the installation and does not recover the notifications prior to installation.
Video tutorial - WhatsApp, how we read deleted messages