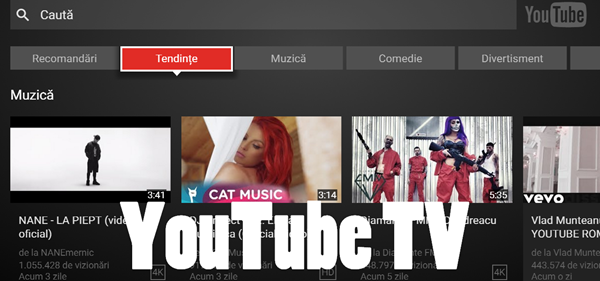 YouTube TV, a new way to control video content
Youtube TV is a Youtube interface that has some special features, and here I refer to the possibility of mating a TV, Laptop or PC with a phone, and the latter will play the remote control.
It's kind of a Chromecast system, but without the need for Chromecast.
About Chromecast, which makes your SMART TV, I've talked to you in this tutorial, Where I showed you and what we can do with it.
YouTube TV is a kind of Chromecast software for those who do not have a Chromecast and will still cast their videos on a PC, Laptop or TV directly from the couch without the mouse or the keyboard.
Where is YouTubeTV?
Youtube TV is a web application that can be opened with any browser.
Visiting the address https://www.youtube.com/tv , You'll see a new YouTube interface that looks like one media Center.
How to use YouTube TV?
From the beginning, we have to understand that pairing between TV or Laptop or PC and phone will be done.
Pairing on TV or PC or Laptop:
- Enter YouTube TV settings: Rotate / Settings / Connect your phone and TV / Connect via TV code
Pairing on Phone:
- Open the YouTube application / Top menu / Settings / Watch on TV / Enter the TV code and enter the code displayed on YouTube TV (On TV, or in the Browser)
How do I play videos from my phone on TV?
Each video will have above it the "design" sign, which we must press and then the video will go to the TV or browser.
That's all friends, nice watching!
YouTube TV, a new way to control video content - video tutorial