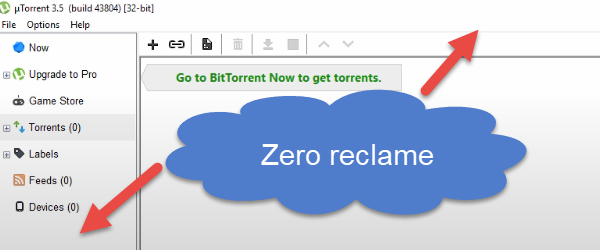 Block or disable uTorrent creatives
Hello friends, in today's tutorial we'll see how to disable advertisements from the famous torrent client called uTorrent.
Why disable uTorrent ads?
One of the main reasons is security. It has recently been discovered that some uTorrent commercials use a exploit flash player to install malware on users' computers, which is also confirmed by other Bleeping Computer users.
Another reason is that the commercials that must upload and display uTorrent will consume computer resources and bandwidth of the Internet. Users with a less-performing computer or laptop will notice that uTorrent is slow, it responds slowly and the graphics interface is slow to load.
When we do not have a good computer or laptop, but we want to do more things at the same time, every optimization made to each software will count!
How do i stop the uTorrent ads?
The process is very simple, we do not need additional software. Open uTorrent, go to Options, then Preferences and in the window that opens, go to Advanced,
In the Filter box, enter the following names one by one:
offers.content_offer_autoexec
Offers.left_rail_offer_enabled
gui.show_plus_upsell
bt.enable_pulse
Offers.sponsored_torrent_offer_enabled
gui.show_notorrents_node
And we change their value. If the default value is set to true, we set false and if false is set to true.